COVID-19 has plunged us into a new reality where many families, businesses, and communities are facing economic as well as health crises. In times like these, municipal spending has a critical role to play in helping Canadians meet new health protocols and address community economic challenges by creating employment opportunities where they are needed most.
Sustainable procurement offers strategies to meet these challenges. We can learn from Canadian municipalities that are using their spending to deliver social and environmental value. Their investment in environmental and social procurement has enabled them to meaningfully address their sustainability goals, reduce their costs over time, and build their resilience to crises like COVID19.
The Canadian Collaboration for Sustainable Procurement (CCSP) is a leadership group of 28 municipalities and other public organizations across Canada that has successfully rolled out the social, ethical, green and Indigenous procurement programs and policies needed to #buildbackbetter. The CCSP has just released its 10th Annual Report on the State of Sustainable Public Procurement in Canada, which shares sustainable procurement strategies relevant to this moment.
Here are six procurement strategies public organizations can use right now to make a positive impact: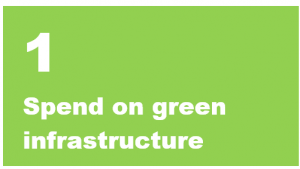 Spend on green infrastructure to create employment, and make that employment matter for those who need it most through Community Benefit Agreements (CBAs). There is funding available from the federal government and some provincial governments for green new construction, renovations and retrofits, as well as projects that provide community benefits. CBAs provide meaningful employment, skills training and/or apprenticeship opportunities for individuals and communities that face barriers to employment. They are a powerful market-based strategy to address poverty and stimulate local economies. A leading light is the City of Toronto, who runs a Workforce Development program that takes a holistic approach to inclusive economic development, which includes integrating community benefit agreements into construction and infrastructure projects. In 2019, the City of Edmonton developed a new Community Benefits Framework. Anchor TO in the Greater Toronto Area, and the Coastal Communities Social Procurement Initiative (CCSPI) in BC are advancing community benefits at a regional scale.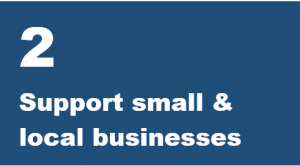 Support small and local businesses under great economic strain right now. We know that small business are critical to maintaining thriving communities. One strategy is to encourage all Purchasing card and credit cardholders to direct their spend to small and local providers, many of whom remain open for business and able to offer curbside delivery as needed. Direct purchasing amounts typically fall below thresholds for which trade agreements apply.  In 2019, members of CCSP's working group from the City of Calgary, Victoria, Edmonton, Mississauga, and Halifax Regional Municipality (HRM) developed and piloted a training program for "Including Social Value in Low-Value Purchases", which has now been fully adopted for purchasing card holders in the City of Victoria and HRM (see Annual Report for more on this story).
Another strategy is to reach out to social enterprises for sole source procurements, or ensure they receive notice of new procurement opportunities. Social enterprises do double duty by providing employment to individuals otherwise facing barriers to employment. They can be flexible to customize their production to meet specific needs, at a competitive price. In 2019, the Halifax Regional Municipality (HRM) successfully contracted with LakeCity Works for picnic tables for its parks and beaches. Following the initial award on the basis of best price, LakeCity Works proposed that the tables be made from recycled film plastics. The purchase diverted 500,000 plastic bags from landfills and provided employment for people with mental illness. According to Jane Pryor, Manager of Purchasing at HRM, "Our experience working with LakeCity Works exemplifies how businesses can deliver economic, environmental, and social value at competitive prices" (see Annual Report for more on this story).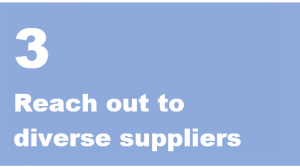 Encourage diverse suppliers to bid on municipal contracts. Crises do not affect people and communities equally. Communities facing barriers are more vulnerable and face deeper and longer-lasting impacts. Leading Canadian municipalities have shown that procurement can support entrepreneurship in equity-seeking communities, providing employment and skill-building opportunities and reducing poverty.
Since 2016, the City of Toronto has ensured that city contracts are accessible to diverse suppliers (certified as at least 51 percent or more owned, managed, and controlled by Indigenous Persons or individuals from an equity-seeking community including, but not limited to, women, racialized minorities, persons with disabilities, newcomers, and LGBTQ+ persons). Staff at the City purchasing goods and services between $3,000 and $100,000 invite at least one certified diverse supplier to submit a quotation as part of its three-quote process. The program has resulted in a 40% increase in City purchases from diverse suppliers and has earned several leadership awards (see Annual Report for more on this story).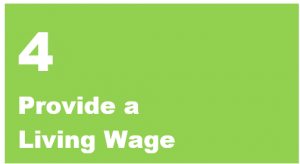 Foster resilience by providing a Living Wage to ensure workers can support their families through this time of economic uncertainty. The Living Wage for Families Campaign launched in 2006 and is a growing movement to advocate for the hourly amount a family needs to cover basic expenses. The calculation is based on annual regional costs and is based on a two-parent family with two children and each parent working full time. There are now 180 certified living wage employers in Canada. In 2016, the City of Vancouver became a Living Wage Employer and was featured in the MCSP 2017 Annual Report. Over 2019, five BC-based municipalities took steps towards implementing living wage policies.There are easy steps any organization can take to encourage diverse suppliers to bid on contracts. Start by reaching out to business associations that certify diverse suppliers to advertise new tenders or business opportunities to their membership. Non-profit supplier certification organizations include the Canadian Aboriginal and Minority Supplier Council, Women Business Enterprise Canada, Canadian Gay and Lesbian Chamber of Commerce, Canadian Council for Aboriginal Business, and the Inclusive Workplace Supply Council of Canada.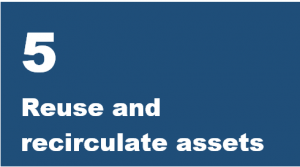 Organizations can implement Living Wage on a contract by contract basis. In November 2019, the City of Edmonton mandated custodial service vendors pay their staff a living wage, as determined by the Edmonton Social Planning Council, while performing contract duties. In the contract management plan, the City required the vendor to report on key performance indicators to demonstrate compliance on worker remuneration. According to Program Manager Joseph Lacoste, "Mandating a living wage is a way for our organization to set an example as livable incomes are essential in reducing poverty. This is a prime example of social procurement where a City contract added social value, namely the assurance of a livable income for 375 custodial staff." Implementing this requirement also helped streamline the City's evaluation process because the weighting became a simple pass or fail requirement for accepting bid responses (see Annual Report for more on this story).
Organizations can save money by reusing assets that would otherwise be thrown out and create work opportunities in the local economy. Reusing goods like furniture helps achieve zero waste goals, reducing pressure on landfills. A simple classified advertising website is a great place to start. In 2014, Thompson Rivers University (TRU) started the TRU Reuse website to redistribute used furniture and other assets across its three campuses. Procurement Manager Eric Vandermeulen shared that "For years, we had a bunch of furniture stored in our warehouse without any way of letting people on campus know it was there. We had been selling or disposing of items off campus and simply buying new when client departments requested furniture," he recalled. "I knew that the number one sustainability rule is to see if you can reuse items within your organization, and I thought TRU-ReUse was a way we could do that." The website is free for staff to use and requires minimal resources to operate. It has enabled the delivery of 390 individual items, estimated at $75,000 in value, across all three campuses since 2018. TRU is exploring the potential of refurbishing and modernizing existing furniture to give it greater appeal and provide work opportunities in its local communities (see Annual Report for more on this story).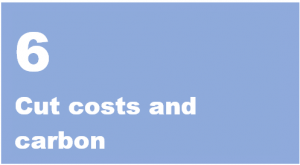 Consider turning the focus on cost control in your organization towards energy conservation. The pandemic underscores the cost of disruption and the urgency of becoming more resilient in the face of climate change. The great news is that you can reduce costs and achieve low carbon commitments at the same time. As one example, the City of Ottawa has created a centralized Corporate Energy Management Office (CEMO) within their procurement department and invested in strong data systems in municipal facilities that will help the municipality drive down costs and hit conservation targets in 2020 (see Annual Report for more on this story).  It can be hard to think about opportunity when there is so much risk and uncertainty and finances are tight. However, we know that stimulus spending is key to helping jumpstart local economies. We also know that investments in sustainable procurement are investments in resilience and supply chain transformation – something needed more than ever as we head into an unknown future.

The Canadian Collaboration for Sustainable Procurement (CCSP), formerly the Municipal Collaboration for Sustainable Procurement (MCSP), is a member-based network of Canadian public-sector institutions working together to align their spending with their values and commitments on sustainability. Our members meet virtually to network, share information and co-create tools to better address green, social and ethical opportunities and risks in their supply chain.
reeveconsulting.com/about-ccsp
About the Authors
Bios and photos at: https://www.reeveconsulting.com/about-reeve-consulting-sustainability-strategy/
Barbara Everdene
Alyssa McDonald