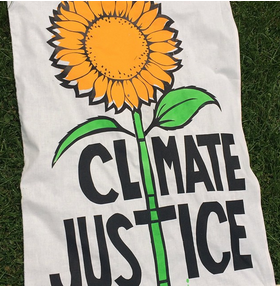 GLOBE-Net, July 5, 2015 – It was described as an uneasy coalition at best, but for thousands who took to the streets in downtown Toronto on Sunday, the mission was clear – an economy that prioritizes jobs, justice and climate action.
The diverse coalition of individuals and groups from across Canada, included labor unions representing Alberta oil workers, First Nations on the frontlines of extraction projects, racialized communities from climate-impacted regions, environmental and anti-poverty groups, worker and faith-based associations, health workers, scientists, students, migrant justice groups, and others. A full list of participating organizations is available here.
Taking place on the eve of the Pan American Climate and Economic Summits, the marchers were assembled in four different contingents demanding a justice-based transition to a clean-energy economy in Canada, one that "starts with justice for Indigenous peoples and those most impacted, creates good work, clean jobs and healthy communities, recognizes that we have solutions and shows we know who is responsible for causing the climate crisis."
High profile participants included author and environmentalist David Suzuki, writer Naomi Klein, Bill McKibben, an American environmentalist, author and journalist, former diplomat Stephen Lewis and actress and activist Jane Fonda.
"This is the kind of coalition that will make the difference," Fonda told the crowd. "They are saying we don't have to choose between the environment and the economy. That's a false choice. In fact, renewable energy — doing away with the fossil fuel-based economy — will create more jobs, more democracy and more justice."
"Our communities deserve justice and cannot continue to be sacrifice zones. Even in the heart of the tar sands, communities are organizing to be part of the new renewable energy economy," said Melina Laboucan-Massimo, Lubicon Cree member and a Greenpeace climate campaigner.
"Everyone and every roof can be a part of the solar solution, Panel by panel we will show politicians what true leadership is," she added.
Other speakers included: Myeengun Henry (an elder of the Chippewa of the Thames First Nation); Nigel Barriffe (Good Jobs For All Coalition); Angel Reyes (Workers Action Centre); Jennifer Henry (Canadian Ecumenical Justice Initiatives); John Clarke (Ontario Coalition Against Poverty); and Anastasia Harripaul (Registered Nurses Association of Ontario).
Speaking at a press conference author and activist Naomi Klein, who just last week spoke at the Vatican where she championed the Pope's message for global action on climate change and made the case for "the beautiful world" beyond fossil fuel addiction, spoke about the new kind of climate movement that has become increasingly vocal and powerful. (See video below).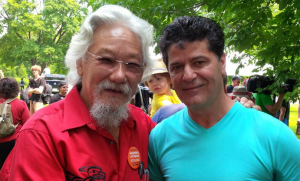 "We call on the Canadian government to go to the Paris climate negotiations with credible climate goals to prevent more than a 2 degree Celsius warming of the world. I call on corporate Canada to make employment-centered investments in sustainable energy and innovation to meet Canada's climate goals," said Jerry Dias, president of Unifor, a union that represents 300,000 private sector workers, including thousands of energy workers in Alberta. (Pictured right with David Suzuki)
Other speakers included representatives from 350.org, Idle No More, Greenpeace, No One is Illegal, and University of Toronto Divestment student organizers.