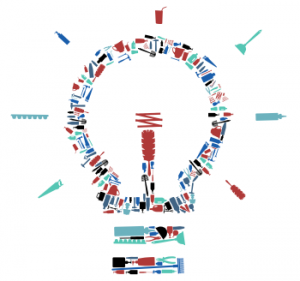 JULY 15, 2016: Dell makes computers from plastic recovered from its own devices. Caterpillar remanufactures oil coolers, engine blocks and other parts for resale, worldwide.
The newly launched Sharing Depot, "Canada's First Library of Things", lends thousands of items from tools to renovate your house and fix your bike to sports equipment, boats and 3-D printers
Stories like these about closing loops and boosting resource efficiency are prompting businesses large and small to look for ways to tap into the fast emerging circular economy, worth $4.3 trillion worldwide by 2030, according to Accenture.
But how to do this and where to start? A Circular Economy Business Toolkit, released today by the National Zero Waste Council, offers answers.
Drawing on new research, interviews with business leaders and case studies from different sectors, the toolkit is a how-to-guide for Canadian businesses, as well as government decision-makers keen to understand this trend.
Canada's National Zero Waste Council is a leadership initiative that brings together governments, businesses and community organizations to advance waste prevention.
The Toolkit focuses on business strategy, design innovation and stakeholder engagement and recommends a variety of approaches.
Often these begin by bringing managers and staff together to ask key questions. For example, what is the risk of remaining tied to a linear (takemake-dispose) model of production?;
How can we help customers increase the lifetime of our products?; and what is the potential to disrupt prevailing business models with new technology?
"Circular businesses will find governments increasingly willing to support their efforts," said Malcolm Brodie, Chair of the Council, and Mayor of the Richmond, BC.
"Our linear economy is costing more than taxpayers are willing to pay, so businesses that eliminate waste will be future-proofing themselves against changing regulations as well as dwindling primary resources."
"No one size fits all–you can begin pretty much anywhere, but you need to be strategic," addsBrock Macdonald, Co-Chair of the National Zero Waste Council and CEO of the Recycling Council of British Columbia, echoing a theme of the Toolkit.
For more information, see the Toolkit and related Circular blog or contact:National Zero Waste Council Secretariat, joanne.gauci@metrovancouver.org, 778-879-0344