CALGARY, Alberta (June 9, 2015) – The sharp drop in world oil prices over the past year is slowing the growth of Canadian oil production over the next two decades, the Canadian Association of Petroleum Producers announced today in its 2015 Crude Oil Forecast, Markets and Transportation report.
CAPP estimates production of Canadian oil will increase 43 per cent over 16 years, growing to 5.3 million barrels per day by 2030, up from 3.7 million barrels per day in 2014. Increased transportation capacity, in all forms, is therefore needed to meet growing domestic and international demand for Canadian oil.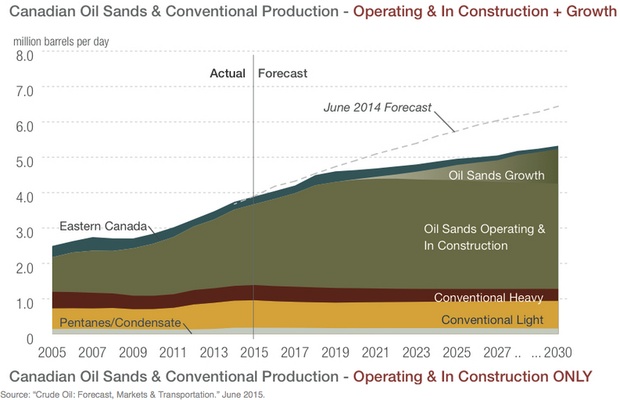 CAPP's June 2014 forecast estimated total oil production in 2030 at 6.4 million barrels per day. While the two forecasts are similar during the early years of the forecast period, the slower pace of production in the latter years is the result of reduced capital spending intentions due to the sharp decline in global oil prices.
"Demand for Canadian oil in Eastern Canada, the United States and globally remains strong," said Greg Stringham, CAPP's vice-president, oil sands and markets.
The International Energy Agency reports global demand for energy, including oil, is expected to grow 37 per cent over the next 25 years. Canada has 173 billion barrels of oil, the third-largest proven reserve in the world. However, today Canada only produces 3.7 million barrels of the 93 million barrels consumed every day around the world.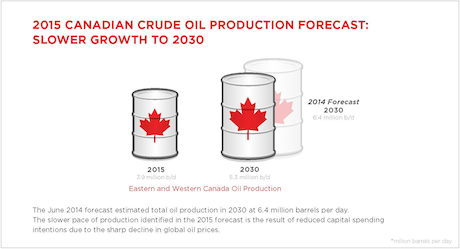 "We have the energy the world needs – our challenge is getting it there," Stringham said. "Connecting Canada's growing supplies to these markets safely and competitively is a top priority. Over the next two decades, we believe all forms of transportation will still be needed to move Canadian oil to markets to the east, west and south."
The oil sands remain the primary driver of oil growth in Canada, with production reaching four million barrels per day by 2030. Conventional oil production in Western Canada, including condensates, is projected at 1.3 million barrels per day by 2030. Eastern Canadian offshore production is forecast at 91,000 barrels per day by 2030.
In light of current low prices, oil producers in Canada continue to evaluate their growth plans. This market uncertainty is reflected most in the oil sands growth range in this year's forecast. The range indicates future projects are under review.
Total oil and natural gas industry capital investment is forecast at $45 billion in 2015, down nearly 40 per cent from $73 billion in 2014. In the oil sands, 2015 capital investment is forecast to be lower by almost a third to $23 billion compared to $33 billion in 2014.
Market access in all directions remains priority
Refineries in Quebec and Atlantic Canada currently import nearly 80 per cent of their oil from foreign sources. The U.S. Gulf Coast, the largest refining cluster in the world with significant capacity to process heavy crude oil, is a major potential growth market for Canadian heavy oil. There is also a strong and growing demand for Canadian oil in Washington, California, Asia and Europe. To reach these markets, more transportation capacity and tidewater access are required.
"Several pipeline projects are at various stages in the regulatory process," Stringham said. "These projects target three different markets and would provide Canadian producers with the market access necessary to become a truly global supplier."
While pipelines remain the primary transportation mode for large crude oil volumes over long periods of time, delays in the startup dates for all pipeline proposals mean railways will continue to be used as a complement to pipeline transportation.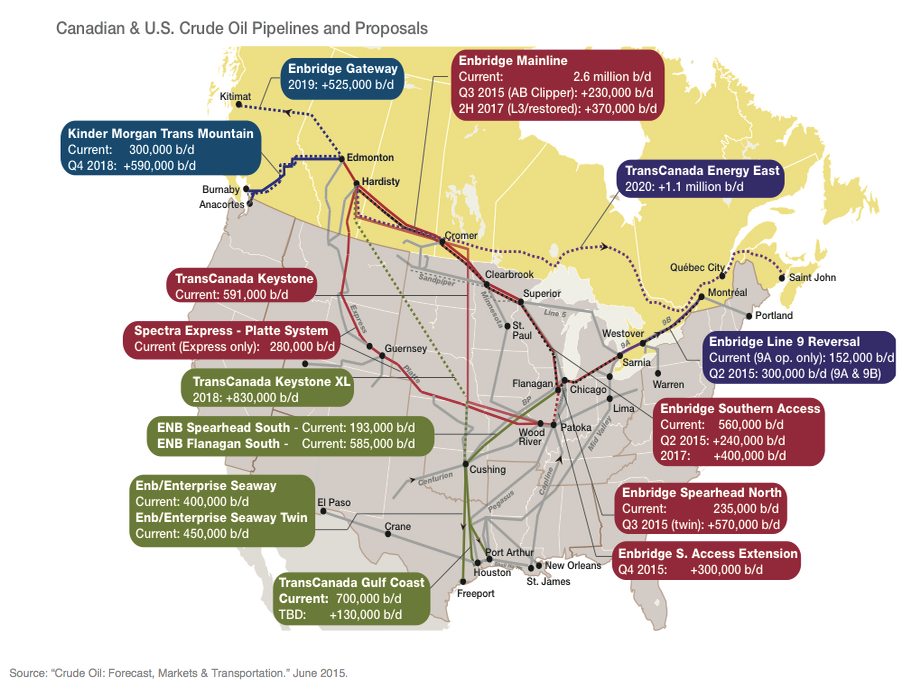 CAPP's annual forecast is developed from oil producer survey data, collected in March and April 2015, and CAPP analysis of historical trends, expected drilling activity, recent announcements and ongoing discussions with industry stakeholders and government agencies.