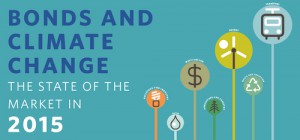 July 17, 2015 – The Climate Bonds Initiative has released the draft version 2.0 of the Climate Bonds Standard for public consultation. The public consultation period lasts 60 days.
Based on the advice of investors, bankers and other stakeholders around the world, the updated Climate Bonds Standard has three key improvements:
A more robust assurance framework that is more practical and efficient
Fully integrates the latest version of the Green Bond Principles
Makes annual reporting requirements more explicit.
"The investor demand is clear – standards are needed to ensure the credibility of the green bond market, " said Sean Kidney,  CEO and Co-founder of the Climate Bonds Initiative.
"Historically, standards have been key to risk management and building market confidence in other aspects of the bond markets; think standardised financial reporting and auditing processes, for example. Standardising the green bond market unlocks the potential for institutional investors to increase their stakes in low-carbon and climate resilient investments with confidence."
The Climate Bonds Standard provides green definitions and certification to allow investors, issuers and intermediaries to better assess the environmental integrity of green and climate bonds.
"It's a multi-sector standard covering solar and wind energy investments, related manufacturing and grid, low-carbon buildings, with criteria for transport (rail, vehicles, etc), water, agriculture and other sectors to be released later this year." said Kidney.
Backed by the Climate Bond Standards Board, made up of investor bodies collectively representing $34 trillion of assets under management, and two NGOs, the project involves some 80 organisations and scientists developing clear definitions suitable for capital markets.
Alignment with the Green Bond Principles will make it simple for issuers, intermediaries and investors that are already familiar with the Principles' guidelines on reporting and management of proceeds – those guidelines are now integrated into the Climate Bonds Standard, except the guidelines become requirements.
This transition from guidelines to independently assured criteria is critical for investor confidence, as it means issuers are adhering to clear requirements around use of proceeds, tracking and reporting.
The Standard offers issuers a framework for providing investors with robust information on the climate credentials of their green bonds.  The Standard accommodates all different types of bonds
The updated Climate Bond Standard is subject to 60 days of public consultation. After the public consultation period, the Standard will be updated based on the feedback and suggestions received before sending to the Climate Bond Standard Board for approval.
Other key reviewers during the 60 day period include the Climate Bond Assurance Working Group (made up of major audit firms and approved verifiers), the Climate Bond Legal Working Group (made up of global law firms), Industry Working Group (list below) and Climate Bond Partners.
The final Climate Bonds Standard V2.0 will be released in October 2015. Specific guidance will also be released for issuers and verifiers.
Read more here: