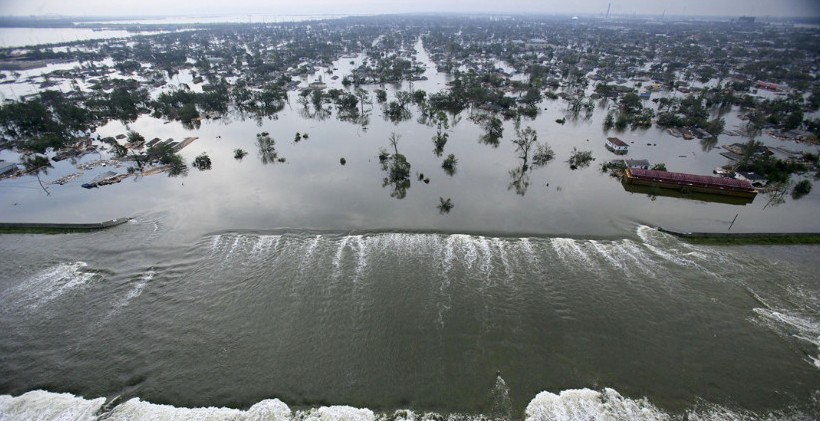 GLOBE-Net, August 25, 2015 – On August 29. 2005, Hurricane Katrina, one of the five deadliest hurricanes in the history of the United States, swept ashore in southeast Louisiana causing wide spread death (1,245) and property destruction ($108 billion), particularly in the City of New Orleans.
More than 80 percent of the city was flooded following the catastrophic failure of the levee system that had protected the city for decades. The failure of the New Orleans levee system, considered the worst civil engineering disaster in U.S. history, was overshadowed by the many failings Hurricane Katrina revealed in the city's ability to adequately and equitably to protect its citizens in times of major calamity.
Most of the deaths and destruction occurred in the poorer districts of the city and with the collapse of basic governance and social service support structures many were left behind to fend for themselves, which led to widespread looting and violence before order could be restored. Many fled the city never to return, and recovery has been painfully slow.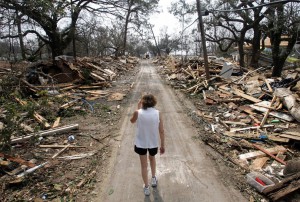 Now, ten years after Hurricane Katrina, the City of New Orleans has released a strategic roadmap to build greater urban resilience and to build a more equitable, adaptable and prosperous place for all of its residents.
Resilient New Orleans includes such items as the establishment of personal emergency savings accounts, the development of a comprehensive storm water management program, and establishing one of the world's few 'resilience centers'.
The strategy, a joint effort between the City and 100RC, an initiative pioneered by The Rockefeller Foundation, proposes 41 actions to build citywide resilience, including:
Launching an emergency account program, using the model of the Individual Development Account, a savings-matching program for low- and moderate-income earners to set aside funds for emergency uses.
Implementing a comprehensive storm water management through a partnership between the City, as well as national and international experts, including Greater New Orleans, Inc., Greater New Orleans Foundation, Trust for Public Land, and Dutch water management firm, Deltares. This effort will complement the traditional, or "gray," drainage system of pipes and pumps with green infrastructure that delays and detains storm water in landscaped spaces.
Establishing one of the world's few Resilience Centers, a storefront to be centrally located to serve as a hub for resilience innovation and leadership development. Partners on this initiative include The Rockefeller Foundation, Tulane University, Greater New Orleans, Inc., and the American Institute of Architects.
Leading by example through a new partnership with a homegrown company, PosiGen. PosiGen Solar Solutions and their partners will install a photovoltaic cell array and battery backup modules on the New Orleans City Hall complex to reduce strain on the electric grid, and provide redundancy in the face of shocks and outages to critical city systems.
Developing a small business resilience initiative to bring technical assistance to small businesses in order to assess their preparedness, identify improvements, and enhance economic stability. Partners include the Walmart Foundation and the United Nations Office for Disaster Risk Reduction.
Implementing a resilient infrastructure recovery and risk transfer initiative to deploy private-market assets to improve or repair critical systems after a disruptive event. Partners for this initiative include Swiss Re and Veolia.
Establishing a resilience-retrofitting program that encourages property owners to invest in risk reduction through the Property-Assessed Clean Energy (PACE) initiative. Deutsche Bank will partner on this initiative.
Being resilient means more than having levees and wetlands to hold back water," said New Orleans Mayor Mitchell J. Landrieu.
"To be a truly resilient society means also combating the longstanding, generational challenges around crime, education and income inequality. It means replacing hatred with empathy, disassociation with harmony, and striking a balance between human needs and the environment that surrounds us."
In making the announcement, Mayor Landrieu was joined by The Rockefeller Foundation President Judith Rodin, 100 Resilient Cities (100RC) President Michael Berkowitz, New Orleans Chief Resilience Officer Jeff Hebert, Federal Emergency Management Agency (FEMA) Administrator Craig Fugate, and National Oceanic and Atmospheric Administrator (NOAA) Dr. Kathryn Sullivan,
"Our work with the City of New Orleans over the last decade has not only shaped the future of this city, it has also influenced how the foundation works all over the world," said Dr. Rodin, President of The Rockefeller Foundation.
"New Orleans was the inspiration behind 100 Resilient Cities, and it was the impetus for our hallmark innovation: the Chief Resilience Officer," she added. "The importance of having a central point of contact for resilience building cannot be understated. Jeff Hebert was the natural choice for this role here in New Orleans, and he's doing an extraordinary job."
The strategy comes with over $1 million in commitments for implementation from 100RC Platform Partners in both public and private sectors, as well as additional commitments from other local and national philanthropic organizations. As the City moves to implement the strategy, it will have continuing access to a $100 million pool of tools and services from the 100RC network and platform partners.
"The people of New Orleans are a profile in resilience," said Mayor Landrieu, "but more must be done to adapt to new and forthcoming challenges facing our environment and opportunity gaps that persist in our City.
"We don't want a New Orleans in which people live a block away but are a mile apart in terms of economic opportunity, and our vision with this strategy is to ensure that as we continue rebuilding our city, no one gets left behind."
Resilient New Orleans was developed in partnership with over 110 local community leaders and stakeholders. The strategy is also a key component of New Orleans' membership in 100RC, which played a leading role managing the community stakeholder process, and providing expertise to local community leaders and organizations.
100RC currently works with a network of 67 cities around the world to prepare for and bounce back from physical, social and economic challenges that increasingly impact a rapidly urbanizing world.
In addition to funding the Chief Resilience Officer position, 100RC will provide partnership opportunities in the private, public, academic, and non-profit sectors to implement ideas from resilience strategies, like Resilient New Orleans.
The full Resilient New Orleans strategy is available here: http://resilientnola.org/.