August 18, 2015 – Washington, D.C.—The combination of overfishing and climate change may be putting the oceans' health—and our own well being—at risk. As State of the World 2015 contributing author Katie Auth explains, protecting lives and livelihoods will require urgent and concerted action to improve the oceans' condition (www.worldwatch.org).
"Our sense of the oceans' power and omnipotence—combined with scientific ignorance—contributed to an assumption that nothing we did could ever possibly impact it," writes Auth. "Over the years, scientists and environmental leaders have worked tirelessly to demonstrate and communicate the fallacy of such arrogance."
Three billion people worldwide depend on fish as their main source of animal protein, essential micronutrients, and fatty acids. The livelihoods of millions of people in both developing and high-income countries rely on the multibillion-dollar fisheries industry—a sector that accounted for 1.5 million jobs and more than $45 billion of income in the United States alone in 2010.
"As our negative impact on the oceans has grown, so has our understanding of the myriad ways in which the health of the marine environment determines our own," writes Auth. "The combined stresses of human activities like overfishing and climate change now pose distinct and intensified threats to marine systems."
The United Nations Food and Agriculture Organization reported that the global share of marine stocks considered to be fished "within biologically sustainable levels" fell from 90 percent to 71 percent between 1974 and 2011. Of that 71 percent, a large majority (86 percent) of stocks are already fished to capacity.
Rapid human population growth and rising incomes are increasing the demand for food fish and pushing wild fish populations to the brink.
Climate-related changes in the marine ecosystem are also affecting the oceans. Over the last 40 years, the upper 75 meters of the world's oceans have warmed by an average of more than 0.1 degrees Celsius per year. Temperate species are responding to this change and other stressors, such as pollution and fishing pressures, by moving toward the poles, possibly increasing competition with polar animals.
Further, increased carbon in the atmosphere is triggering ocean acidification. About a quarter of human-caused carbon dioxide from the atmosphere has been absorbed into seawater. This changes the chemistry of the water and makes it more difficult for some marine organisms (such as oysters and corals) to form shells and skeletons. Once these populations are affected, entire food webs are threatened.
"Marine ecosystems and individual organisms that already are weakened by overfishing become less resilient and more vulnerable to disruption, especially because environmental change is occurring so rapidly," writes Auth.
Yet Auth believes that there is still hope. "Conservation efforts aimed at improving system resiliency have proven effective in addressing the nexus between fishing and climate change," she writes.
Changes in fishing policies, equipment, and techniques that result in less damage to ocean-bottom habitats and that reduce bycatch also would diminish fishing stresses. Finally, revamping the global energy system away from fossil fuels would curtail the rise in ocean temperatures and carbon dioxide levels.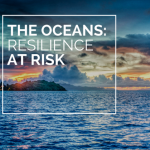 Worldwatch's State of the World 2015 investigates hidden threats to sustainability, including economic, political, and environmental challenges that are often under reported in the media. State of the World 2015 highlights the need to develop resilience to looming shocks. For more information on the project, visit here