September 24, 2018 – Ottawa – In a new model of collaboration with the Government of Canada, industry leaders from six sectors with high growth potential represented on the Economic Strategy Tables have proposed an ambitious roadmap to guide federal efforts in making Canada more globally competitive.
The collective recommendations, contained in a report titled "The Innovation and Competitiveness Imperative: Seizing opportunities for growth", were made public today by Innovation, Science and Economic Development Canada.
Canada's economic brand needs a refresh – because the world needs more of what Canada has to offer
The Tables have also released specific proposals for each of the six sectors with high growth potential: Digital Industries, Advanced Manufacturing, Agri-Food, Clean Technology, Health and Biosciences and Resources of the Future.
Receiving the reports on behalf of the Government of Canada, Navdeep Bains, Minister of Innovation, Science and Economic Development, thanked the Chairs and the Table members for their hard work and leadership in this important national effort.
 Quick facts
The Tables have offered six ambitious "Signature Initiatives" that are viewed by industry as key to success. Each Signature Initiative also estimates the economic advantage from implementing each recommendation in full. (see Backgrounder)
Each Table is headed by a Chair who presides over a group of approximately 15 members, representing a diverse group of industry experts from the six high-growth sectors.
McKinsey & Company provided fact-based research and analysis to support the development of the Economic Strategy Tables' signature recommendations.
Together, the Tables held 67 engagement sessions with Canadians to develop their reports and recommendations.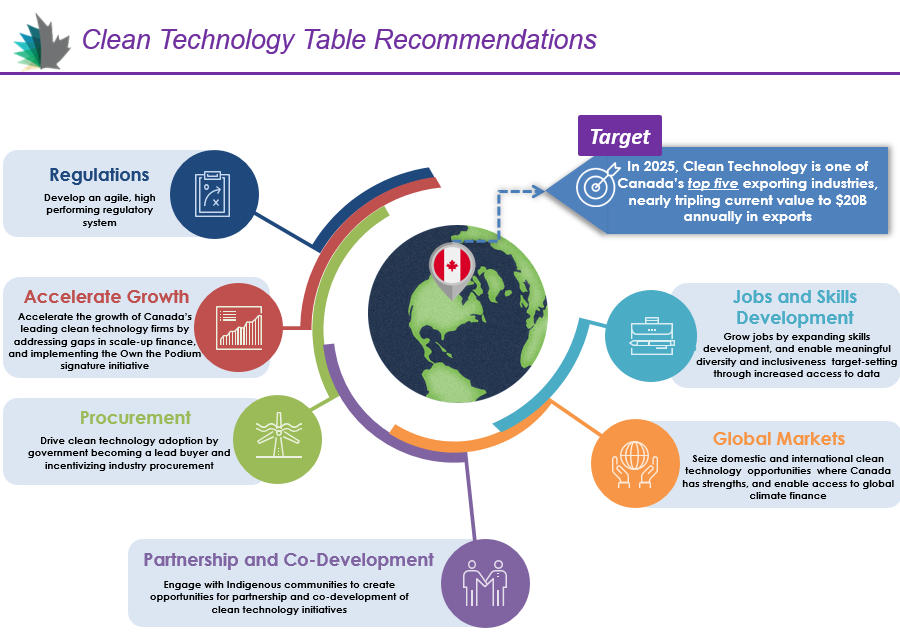 Together with some of the Government's ongoing flagship initiatives, including Innovative Solutions Canada, Connect to Innovate and the Innovation Superclusters Initiative, the Economic Strategy Tables are part of the Government's Innovation and Skills Plan to create well-paying jobs and strengthen the middle class by investing in high-growth sectors where Canada has a globally competitive advantage.
These are the six Signature Initiatives recommended by the Economic Strategy Tables (in their own words) –
 Own the Podium: Building business winners – A new mindset of rallying behind high-growth firms to create global leaders in each of our six sectors
Agile outcome-based regulations that enable innovation, with new collaborative relationships between industry and regulators
Skills and Talent: Position Canadians for jobs of the future and lead in the global competition for talent
Technology adoption: Drive technology adoption through centres where innovators, purchasers and regulators get practical experience so they can leapfrog global competition
Infrastructure (digital and physical): Universal Internet access for all Canadians and physical infrastructure that helps our goods get to export markets
Canada Brand: Telling the world what our innovative economy has to offer – Canada's economic brand needs a refresh – because the world needs more of what Canada has to offer
The report is available here: Report from Canada's Economic Strategy Tables: The Innovation and Competitiveness Imperative