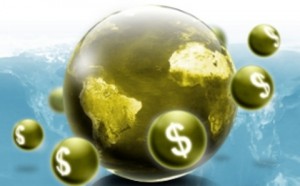 May 12, 2015 – As of May 8,2015 a total of 33 governments have made pledges to the Green Climate Fund (GCF) of just over USD 10 billion, far short of the planned USD 100 billion target.
Of this total only USD 4.0 billion (42%) in contribution agreements have actually been signed. See detailed Table of Pledges here.
The objective is for all pledges to be converted into contribution agreements within one year from the time at which they are made. GCF's initial resource mobilization (IRM) period continues to be in progress, and the Fund accepts new pledges on an ongoing basis.
In a Thomson Reuters Foundation press report the new head of the U.N.'s Green Climate Fund said a new global deal on climate change, due to be agreed in Paris this year, must pave the way for an ambitious rise in funding for developing countries as their climate-related costs grow,
Many countries see boosting the size of the Green Climate Fund as central to the accord, which is expected in December, Héla Cheikhrouhou, executive director of the fund, told the Thomson Reuters Foundation in an interview.
"Clarity about the growth pathway of the level of financial resources through the Green Climate Fund is going to be an essential ingredient of a successful agreement," she said from South Korea, where the fund is based.
The fund will channel finance to countries vulnerable to climate change to help them adapt to its impacts, such as extreme weather and rising seas, and to develop cleanly.
Its director said developing countries, beginning with Mexico and Gabon, had indicated they were relying on support from the GCF to implement the voluntary commitments all nations have been asked to submit for the new climate change deal.
$100 BILLION 'CONFUSION'
Back in 2009, rich governments promised to mobilise $100 billion a year in climate finance by 2020 to support vulnerable countries. So far they have provided annual aid in the low tens of billions of dollars.
Cheikhrouhou said the expected Paris agreement – which will not take effect until 2020 – was unlikely to set a new target higher than the $100 billion goal.
"Right now all the focus is on reaching some level of understanding on how to achieve the $100 billion – I do not believe anyone is thinking beyond that," she said.
There is still much confusion about what types of finance can count towards the $100 billion per year goal, and how it will be reached from current levels, she added.
Once the GCF begins to approve projects for backing this autumn, that will help provide some clarity, she added.
She did not rule out using the fund's resources for technologies that could make fossil fuel energy cleaner. Green groups have urged the GCF to state it will not invest in coal and other fossil fuels.
Cheikhrouhou said technologies supported by the fund must be compatible with recommendations from the U.N. climate panel that the world has to live within a carbon budget, two thirds of which has already been used up.
"Our mandate is to promote a paradigm shift away from business as usual … to low-emissions development," she said.
The overall financial burden on developing nations is getting heavier, as they are expected to become more resilient to climate change impacts, to prepare and respond to disasters, and to achieve sustainable development, Cheikhrouhou said.
"This cannot be a zero sum game – there has to be growth in the level of finance going to the developing countries," she said.
The increase in support can be expected to come from the budgets of wealthy nations, the private sector and new sources of finance, she said.
Past suggestions for alternative sources – yet to be considered by the fund's board – have included green bonds and levies on plane tickets and the tourism industry, for example.
"We must find a new and innovative solution to grow the pie (in order) to build a more resilient future for developing nations," Cheikhrouhou said.
Last month she said "GCF is a key indicator for new climate finance resources, making them visible and possible to track."
"This is a test for governments to deliver on their vision to establish GCF as the primary global investment vehicle on climate finance under the UNFCCC," she explained.
"Climate finance and the Green Climate Fund are a decisive building block of the Paris universal climate agreement," emphasized Ms. Cheikhrouhou, adding that "the success of the Fund is an incentive for the outcome of the Paris agreement."
Her thoughts were echoed by UN Secretary-General Ban Ki-moon's speaking to the International Monetary and Financial Committee, in Washington, D.C., on 18 April "We need a credible trajectory for realizing the $100 billion goal per year by 2020, as well as the operationalization of the Green Climate Fund."
"This was a commitment which was made in 2009 during the Copenhagen climate change summit meeting.  It has been five years.  We have only mobilized $10 billion as an initial capitalization of this Green Climate Fund.  I would really hope that there will be a trajectory, a path, which will be shown to the Member States." he added