By Alex Kirby
LONDON, 8 June, 2015 − Some of the world's richest countries are not preparing to do anything like enough to limit their greenhouse gas emissions, according to new analysis.
The report by Climate Action Tracker (CAT) says that all the G7 countries and the member states of the European Union have so far agreed is to keep their emissions at around their present levels for the next 15 years, instead of cutting them fast.
The combined climate plans for the G7 and the EU mark "a small step towards the right track to hold warming to 2˚C, but they still leave a substantial emissions gap", according to analysts from CAT, which reports on countries' emissions commitments and performance.
The gap yawns so wide that the present level of commitment shown by the two blocs would go less than one-third of the way to staying within the 2˚C limit, they find.
Extreme risk
And they say there is "an extreme risk" that this low level of ambition could continue until 2030 to keep emissions so high that it would be impossible to stay within the 2°C warming limit, agreed by the world's governments.
The concern is based on what climate negotiators call the blocs' Intended Nationally Determined Contributions (INDCs), undertakings given by governments about what each of them will do to implement the global agreement on tackling climate change that they hope to reach at the UN climate change conference in Paris later this year.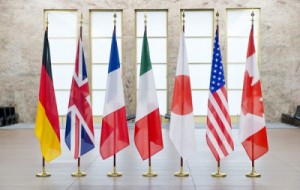 With the G7 countries meeting in Germany yesterday and today, CAT − a consortium of four research organisations − has looked at the combined INDCs of all G7 governments and the EU, who account together for around 30% of global greenhouse gas emissions and 40% of global GDP.
The current G7+EU policies, CAT says, are projected only to stabilise emissions through to 2030 at close to present levels, despite the need for there to be a rapid decline in emissions.
The combined effect of the G7+EU INDCs for 2025 and 2030 would bring the group to no more than 20%-30% of the reductions needed to stay with the 2°C limit, or the more stringent 1.5°C threshold for which many climate scientists are pressing.
The authors say the G7 and EU governments must significantly improve on the INDCs they have submitted so far before the Paris talks start on 30 November. They also urge that the INDC commitments should be limited in time − for example, to the five years from 2021 to 2025 − to avoid locking in emissions levels that are inconsistent with the 2°C and 1.5°C thresholds.
The current G7+EU policies … are projected only to stabilize emissions through to 2030 at close to present levels, despite the need for there to be a rapid decline in emissions

.
Major steps
"This gap shows us that it's very clear the G7 and EU need to urgently revise their current policies," says Bill Hare, of Climate Analytics, one of the consortium members. "They need to review – and increase – their stated climate plans before Paris, so that the Paris Agreement can make major steps towards setting the world on a below-2˚C pathway,
"The G7+EU INDCs on the table now show there is an extreme risk of locking in, until 2030, high emissions levels that are inconsistent with holding warming below 2˚C and to 1.5°C. Waiting 15 years from today to increase emissions reductions − and 10 years after the 2020 agreement comes into force − could be very dangerous for the planet."
The authors say the EU's policies would bring it close to achieving its INDC in 2030, but the US, Canada and Japan still have a lot of work to do. They call Canada's INDC and Japan's draft INDC "inadequate". − Climate News Network