WASHINGTON, Oct. 20, 2015  — Water scarcity challenges are becoming more acute across the globe. Countries are struggling to ensure a secure supply of water and in many cases must ration water and invest in expensive treatment and desalination plants.
What is often overlooked is the fact that 28% of water is lost during distribution due to leakage, theft and billing process failures.
This lost water – or "non-revenue water" (NRW) – creates additional needs for costly treatment plants, increases the demand for energy from pumping stations, and puts added stress on already strained infrastructure, communities, and environments.
Meanwhile, lost revenue from this water only increases the need for government subsidies, which already are necessary to cover a significant portion of the costs of water in many countries.
Smart water infrastructure – including metering, networks and software – is a cost effective means to address this problem.
Between 2015-2025, the world will invest $35.9 billion in smart water infrastructure, according to a new study published today by Northeast Group, LLC.
"Increasing water scarcity and poor distribution infrastructure are major challenges for water utilities across the globe," according to Ben Gardner, president of Northeast Group.
Smart water infrastructure solutions alone will not be sufficient to address water scarcity issues in the hardest hit countries and regions. But they will be a critical first step and will complement other solutions.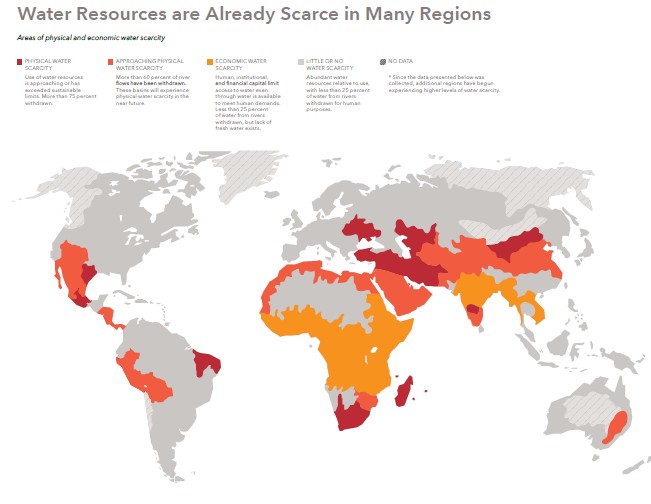 Even in water-abundant regions, smart infrastructure shows strong potential. For all utilities, leakage reduction will help improve utility efficiency, while IT and analytics will also improve operations.
Using an average of the full cost of water, as calculated by Northeast Group, and current tariffs, smart water infrastructure could save $27.5 billion per year across the 125 countries covered in this study if fully implemented.
This is a conservative estimate and potential savings could be much higher." Smart water infrastructure helps utilities to reduce what is known in the industry as "non-revenue water" (NRW) or water lost before reaching the customer.
Water is a commodity that is underpriced in many parts of the world. In the study, Northeast Group calculated a "full cost of water" for each country based on scarcity, capital costs and electricity costs to pump water.
Few utilities directly account for the scarcity costs of water, which can be very significant.
The study includes case studies from diverse geographies (California, Australia, Israel and Sao Paulo, Brazil) that demonstrate the costs of water scarcity challenges. In most of these cases, smart water infrastructure is more cost effective compared with alternative solutions.
Northeast Group found that about half of the world's countries fail to achieve cost recovery through their water tariffs, depriving utilities of much needed funds for infrastructure investment.
Northeast Group's study profiles leading industry vendors including ABB, Aclara, Arad, Badger, Diehl, Elster, i2O, Itron, Kamstrup, Mueller, Neptune, Oracle, Schneider, Sensus, Siemens, TaKaDu, Tuv Sud and Zenner among others.
The Global Smart Water Infrastructure: Market Forecast (2015-2025) study is 225 pages long, includes forecasts of three market segments for 125 individual countries and comes with an Excel file with over 7,500 data points and PowerPoint presentation. To order a copy of the study, please visit: www.northeast-group.com
ABOUT: Northeast Group, LLC is a Washington, DC-based smart infrastructure market intelligence firm. See more here.
http://www.northeast-group.com