Whitehorse, Yukon, February 10, 2016 –A new and comprehensive report documenting climate change in Yukon has been released by the Northern Climate ExChange of the Yukon Research Centre (YRC).
Yukon Climate Change Indicators and Key Findings 2015l ists climate change indicators which confirm that Yukon's climate is warming rapidly and more change is projected.
"This report will be useful to researchers, decision makers, and the general public as it could be used to make more informed decisions on how we respond to a changing climate", said report author and Yukon Research Centre Science Advisor John Streicker.
"Climate change presents both challenges and opportunities and updating this report on a regular basis will be an invaluable tool on how we can best prepare for change."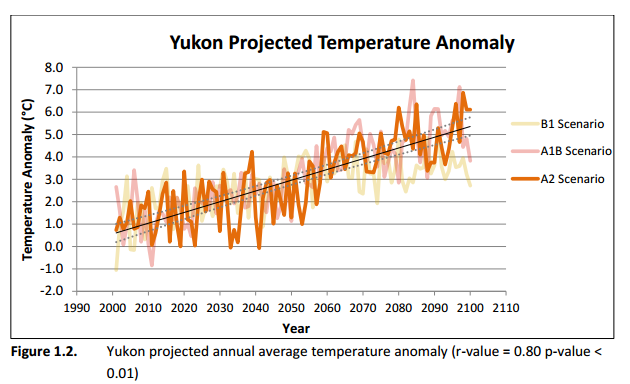 The Yukon government-funded report is based upon the most up-to-date research across the territory and is intended to illustrate the impacts of climate change across Yukon. It will inform government policy-making in the years ahead.
The climate change indicators that were examined in the report were temperature, precipitation, fire history, sea ice melt, ocean oscillation patterns, and greenhouse gas emissions. These indicators led to ten key findings. Two of the findings include how Yukon's annual average temperature has increased by 2°C over the last 50 years with winters warming the most at 4° over the last five decades. This is double the national average.
This report was reviewed by a number of organizations, scientists and government agencies, including Yukon government's Climate Change Secretariat (YG) and the Council of Yukon First Nations.
"The Government of Yukon is committed to growing our knowledge and understanding of climate change by supporting the development of the Yukon Climate Change Indicators and Key Findings report," Minister of Environment Wade Istchenko said.
"This report provides an important source of independent information which will guide action and research on climate change in Yukon."
In addition to this newly released report, NCE has also published the 2015 supplement to the Compendium of Yukon Climate Change Science.
This compendium is a compilation of climate change related research in the territory. These yearly supplements aim to provide up-to-date information to both scientists and decision makers. The Yukon Climate Change Indicators and Key Findings 2015 is available to the public on the YRC website.
Northern Climate ExChange is one of seven key programs that operate under the Yukon Research Centre at Yukon College. The others include: Biodiversity Monitoring, Cold Climate Innovation, NSERC Industrial Research Chair in Mine Life Cycle, Resources, and Sustainable Development in the Arctic, Science Adventures, and Technology Innovation.