Globe-net, January 15, 2017 – Renewable energy is a fundamental and growing part of the global energy transformation. Increasingly, renewables have become the first choice for expanding, upgrading and modernising power systems around the world.
So concludes  REthinking Energy, the latest report from the International Renewable Energy Agency (IRENA).
Falling costs, driven by innovation in technology and policy, is spurring renewable energy deployment and with it a myriad of socioeconomic benefits, according to the report, which examines trends and developments in the global quest for a sustainable energy future.
REthinking Energy, now in its third edition,was released at IRENA's seventh Assembly, the Agency's ultimate decision-making authority.
"Renewables are gaining ground by nearly every measure. Accelerating the pace of the energy transition and expanding its scope beyond the power sector will not only reduce carbon emissions, it will improve lives, create jobs, achieve development goals, and ensure a cleaner and more prosperous future," said IRENA Director-General Adnan Z. Amin.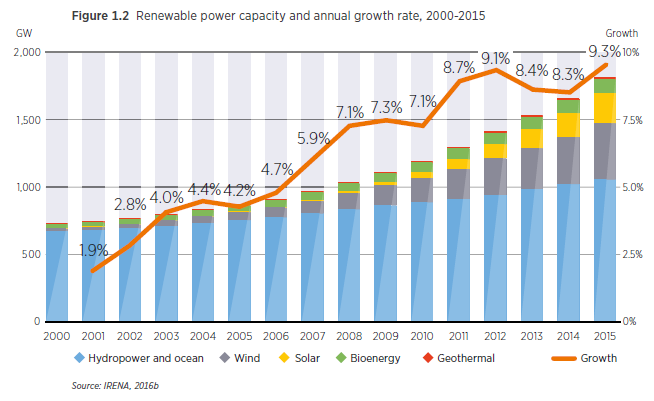 As this third edition emphasises, accelerated deployment will fuel economic growth, create new employment opportunities, enhance human welfare and contribute to a climate-safe future.
Renewables, consequently, are crucial for sustainable development, including the pursuit of SDG 7, the United Nations-adopted goal of ensuring "affordable, reliable, sustainable and modern energy for all".
Policies and regulations remain crucial to establish a stable and attractive market for renewable energy. Strong government commitment is needed to reduce risk and lower the cost of financing.
To date, more than 170 countries have established renewable energy targets, and nearly 150 have enacted policies to catalyse investments in renewable energy technologies.
At the end of 2016, at least 67 countries had held renewable energy auctions, compared to only six in 2005. Solar photovoltaics (PV) achieved new price lows in several countries.
The publication provides insights on the innovations, policy and finance driving further investment in sustainable energy system, including that:
Renewable energy auctions are gaining popularity in developed and developing countries, generating record-breaking low energy prices;
Demand for battery storage is increasing rapidly and playing a larger part in integrating variable renewables;
New capital-market instruments are helping increase available finance by offering new groups of investors access to investment opportunities;
Institutional investors are moving into renewable energy as it offers stable returns over the long term;
New business models promise new ways to finance renewable energy.
In the power sector, breakthroughs in complementary systems, in particular storage, will enable the integration of larger shares of renewable electricity. Off-grid renewables – via both stand-alone systems and mini-grids – can increasingly complement grid-based options to expand sustainable energy access.
Battery storage for electricity could increase from less than 1 GW today to 250 GW by 2030, according to IRENA estimates. The market value of battery storage reached USD 2.2 billion in 2015 and is expected to rise to USD 14 billion by 2020.
Global PV capacity soared from 40 GW in 2010 to 219 GW in 2015. Solar PV could to account for as much as 7% of global power generation by 2030 – a six-fold increase from today.
Global investment in renewables has shown steady growth for more than a decade, rising from less than USD 50 billion in 2004 to a record USD 348 billion in 2015.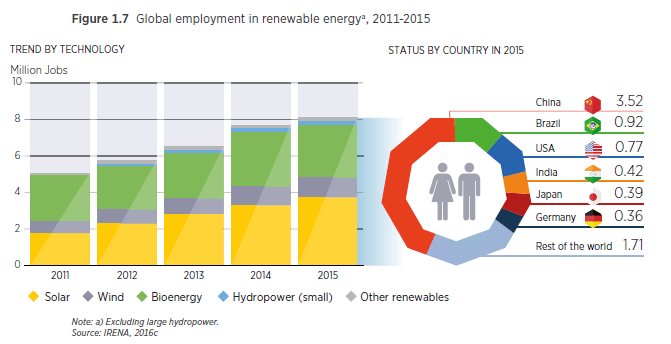 The full report is available here: REthinking Energy 2017: Accelerating the global energy transformation