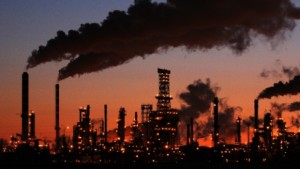 Edmonton, Alberta, Nov 01, 2016 – The government of Alberta has introduced the Oil Sands Emissions Limit Act as the next step in the Climate Leadership Plan.
"Putting a limit on oil sands emissions shows how Alberta can be an energy producer and a world leader on climate action," said Minister Phillips.
."It will drive innovation and reduce emissions per barrel, while still allowing for production growth and development. We look forward to reviewing the implementation advice offered by our expert Oil Sands Advisory Group this spring."
The legislation limits oil sands greenhouse gas emissions to an annual maximum of 100 megatonnes, with allowances for new upgrading and co-generation.
That figure was established by a diverse group of stakeholders and was recommended to government by environmental organizations and representatives of Alberta's oil sands industry. It sets a framework for additional implementation advice from the Oil Sands Advisory Group, which was announced in July 2016.
The cap is a cornerstone of Alberta's climate leadership plan, allowing the oil sands industry to grow sustainably, while repairing the province's reputation.
Limits on oil sands emissions will provide an incentive for companies to invest in greenhouse gas reduction as well as innovative technologies that will pave the way for Alberta's energy industry to lead in a low-carbon future.
Alberta's climate plan and the oil sands emissions cap were lauded by U.S. President Barack Obama, and Minister Phillips will promote the plan at the United Nations climate conference later this month in Marrakech, Morocco.
A statement released by Industry Caucus of the Oil Sands Advisory Group,  consisting of  such energy industry giants as Canadian Natural Resources, Cenovus, ConocoPhillips Canada, Meg Energy, Shell Canada, Statoil Canada, and Suncor, says "Our support for the oil sands emissions limit and climate policy leadership reflects the ongoing collective support for responsible development of the oil sands."
"We believe that by investing in technology and innovation, we can produce oil from the oil sands on a globally carbon competitive basis."
The Alberta Climate Leadership Plan emissions limit acts as an incentive to continually improve our performance in a carbon constrained world. " Industry Caucus of the Oil Sands Advisory Group
Elyse Allan, President & CEO of GE Canada, said "At GE we know that innovation, collaboration and speed are key to solving big challenges. Alberta's Climate Leadership Plan utilizes the carbon revenue to reinvest in technologies that will lower emissions.  We will work with customers and government to develop and deploy the technology that will help industry succeed within this new framework."
"Alberta has under several previous administrations faced increasing scrutiny over greenhouse gas emissions resulting from oil sands development. This damage to our reputation has a very real economic consequences for Alberta," Phillips told a news conference.
"For a long time many of the conversations around energy infrastructure have been a proxy for the fact Alberta and indeed Canada under the previous Conservative federal government didn't have a credible climate action plan. What this does is it addresses those concerns," Phillips added.
Quick facts
There is currently no limit on oil sands emissions, either by facility or industry-wide.
A $30/tonne carbon price will be applied to oil sands facilities based on results already achieved by high-performing facilities.
The limit will apply to in-situ sites, mine sites, processing plants, primary production, enhanced recovery and experimental schemes, and buildings, equipment, structures and vehicles associated with those sites.
The Act will take effect when passed in the legislature, but will not obligate oil sands producers until a regulatory system is designed and implemented.