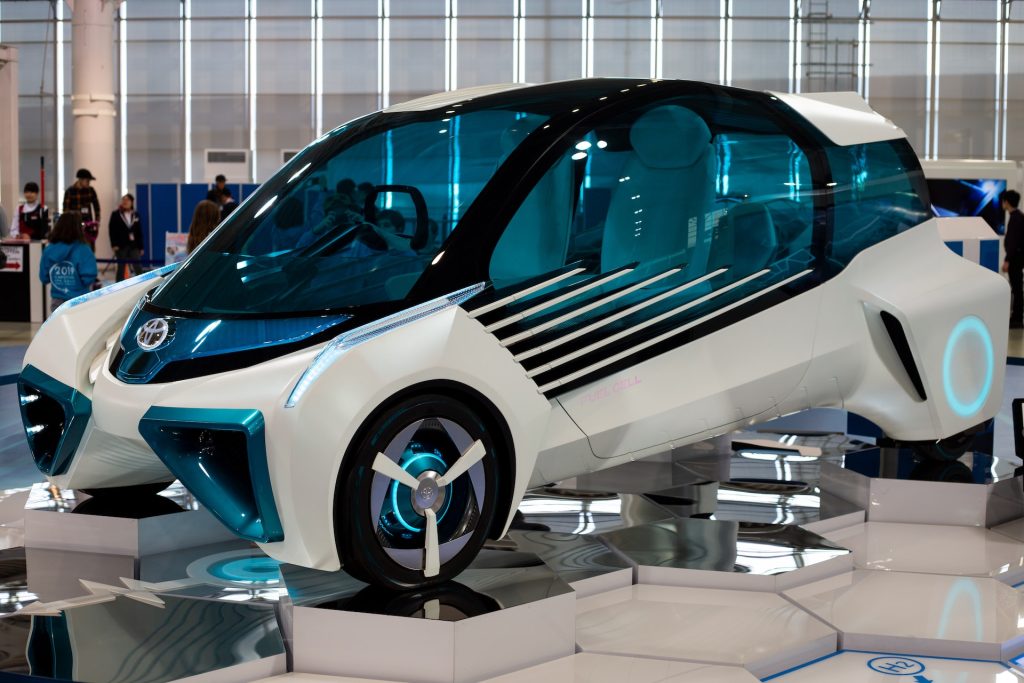 By: Emily Newton
People are increasingly interested in how hydrogen could provide reliable, sustainable power to improve transportation.  They've yet to use it widely, but that could change soon. Here are some impressive advances in hydrogen fuel cell technology that are worth knowing more about.
1. Increasing Possibilities for Hydrogen Trains
There are ongoing efforts to cut the emissions associated with the transportation sector without restricting the movement of goods or people. The use of hydrogen-powered vehicles could achieve that goal. Individuals are particularly making progress as they investigate the usage of hydrogen freight trains.
In one case, Nestlé Waters France will be the first company in Europe to use such a vehicle and will begin doing so in 2025. More specifically, the locomotive will run on electricity and hydrogen, depending on the available infrastructure on its routes. The company will use the vehicle to transport mineral water from a factory to various distribution centers in France.
The train will have a generator wagon containing a high-power fuel cell system operating with renewable hydrogen. It will also feature a line-electric locomotive — an electrical cable will link these components. The main benefit of the generating wagon is it can give the locomotive electricity without requiring overhead wires.
Elsewhere, railway company Canadian Pacific executives recently sent a hydrogen-powered locomotive on test runs to determine its economic feasibility. In this case, the locomotive has electric traction motors powered by batteries and hydrogen fuel cells. After running these early tests, decision-makers plan to work on scalability. They clarify that things are still in the preliminary stages, but they hope to have three of these locomotives in service by the end of 2023.
Advances in hydrogen fuel cell technology often happen in stages. However, careful testing at every phase is essential to verifying whether certain solutions are ready for real-world applications at scale.
2. Emerging Options for Hydrogen Cars
Although people often see the potential of hydrogen cars, they frequently point out that the infrastructure needs improvement. That's true, but things are moving in the right direction. For example, the United States has more than 50 hydrogen refuelling stations. People will be more likely to consider hydrogen cars if they know it's easy for them to fuel up when required.
Automakers are also working on high-tech options that will significantly reduce how often people need to plan for hydrogen replenishment. An especially promising example comes from the Volkswagen Group. Engineers are developing an option that uses a ceramic membrane rather than the polymer membranes used by some other automotive companies working on hydrogen fuel cells.
Reports suggest this technology — for which developers recently submitted a patent application — would allow cars to go nearly 1,250 miles before needing hydrogen fill-ups. Engineers also designed the membrane to work without platinum. That achievement could make large-scale production much more financially feasible.
French luxury car maker Hopium also intends to launch a hydrogen automobile. The Machina model takes only three minutes to recharge. Moreover, it goes from zero to 100 kilometers (62 miles) per hour in just five seconds. The car can go for at least 620 miles before requiring refueling, too. The automobile's sleek build is perhaps the biggest selling point for potential luxury car buyers. It proves people can embrace hydrogen fuel cell technology without driving bulky cars.
General Motors built the first hydrogen fuel cell car in 1967. Options have come a long way since then and it'll be interesting to see what the future holds. Consumers will be more likely to switch to hydrogen cars if they perceive these options as accessible and relevant. These advances in hydrogen fuel cell technology will keep people hopeful.
3. Enhanced Potential for Hydrogen-Powered Planes
It's well known that traveling by air is not the greenest way to get around. However, a future defined by more hydrogen-fueled planes would change that. It'll be a while before people can book commercial flights to travel this way, but some recent progress is certainly encouraging.
A recent collaboration between Rolls-Royce and easyJet involved demonstrating the feasibility of converting a Rolls-Royce AE 2100-A regional aircraft engine to run on green-powered hydrogen sourced from tidal and wind power. This effort aligns with the aims of both companies to pursue increased sustainability in operations. It's also a step toward future endeavors involving experimenting with a Rolls-Royce Pearl 15 jet engine powered by hydrogen.
Airbus is also working on a hydrogen-powered airplane. It took engineers a little over a year to build the company's first cryogenic hydrogen tank. They're now testing the vessel, but with nitrogen rather than hydrogen. The ultimate goal is to have a tank ready to install in a demonstrator aircraft by 2026–2028.
Safe and effective hydrogen transportation in flight is a major hurdle to overcome, so these hydrogen fuel cell technology advances will undoubtedly pay off for future efforts. However, such planes are like hydrogen cars in that they need the necessary infrastructure. People are making gains in that area,too.
One recent case involved a collaborative effort to turn the United Kingdom's Bristol Airport into a hydrogen hub. Participants want to find the most effective and realistic ways to use hydrogen in the foreseeable future. Such efforts include powering planes with hydrogen, but also a wide variety of other vehicles.
Advances in Hydrogen Fuel Cell Technology Take Time
Sometimes, it becomes too easy for people to dismiss hydrogen fuel technology as something that'll never work in real life. It certainly sounds great, but there are a lot of challenges to overcome. However, these examples show engineers and related professionals have made significant headway in finding realistic solutions. Even if they encounter further obstacles in the quest to make these options scalable, the lessons learned throughout the process are undeniably valuable.
People must remember that many of the world's most valuable inventions, concepts and discoveries did not happen overnight. Instead, they became possible through persistence and willingness to think outside the box. The same is true for these hydrogen-fuel-cell-related efforts. Slow progress is not meaningless because these efforts show people what's most likely to work.
Plus, even the efforts individuals initially perceive as failures could ultimately matter because they encourage engineers to go in a different direction when pursuing the possibilities. Working toward a greener future can only sometimes happen quickly. Ongoing efforts like those mentioned here will lead to the kind of sustainable progress that captures headlines and people's imaginations.
---
Emily Newton is a journalist with over four years of experience covering the environmental sector. As Editor-in-Chief of Revolutionized, she also covers the many ways technology is changing our world.