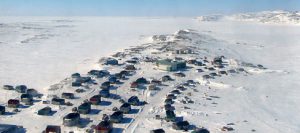 IQALUIT, Sept. 21, 2016 – Arctic communities and governments took major steps toward reducing reliance on diesel fuel at the Arctic Renewable Energy Summit in Iqaluit, including entering into discussions to establish a Nunavut Renewable Energy Partnership.
The summit was organized by WWF-Canada and co-hosted by the Government of Canada, Government of Nunavut and the Qulliq Energy Corporation (the government-run electricity utility for Nunavut).
Key developments at the summit:
Nunavut Minister of Energy and Environment Joe Savikataaq announced his government's commitment to creating a territorial Climate Change Secretariat.
The Qulliq Energy Corporation announced it is launching a net metering programin the spring of 2017, an important step in opening the door to energy sources other than diesel as it allows renewable energy to be added to the electricity grid.
WWF-Canada announced the launch of a fund for habitat-friendly renewable energy training for Arctic communities, to drive local expertise and economic development.
Key participants entered into discussions toward the formation of a formal partnership to expedite the transition to habitat-friendly renewable energy in the Canadian Arctic.
The Nunavut hamlet of Arviat, in a letter of support, stated its commitment to any efforts to increase the use of renewable energy in the territory, for both environmental and economic reasons as "the case for renewable energy in Nunavut has been convincingly made."
The Waterloo Institute for Sustainable Energy presented new research that shows millions of dollars in savings for some Nunavut communities by shifting to more renewable energy generation.

"These are significant steps toward transitioning to habitat-friendly renewable energy in the Canadian Arctic," said David Miller, CEO and president of WWF-Canada:.
"The timing is perfect, considering much of the diesel-power infrastructure in Nunavut is in need of replacement and the recent pledge from Canadian Prime Minister Justin Trudeau and American President Barack Obama to reduce reliance on diesel in the Arctic."
Federal representatives joined Nunavut cabinet ministers, Inuit and community leaders, WWF-Canada and dozens of energy, legal, science, policy, engineering and environmental experts to learn about Arctic communities in Alaska and Russia, as well as a major Canadian mining company, that already rely on clean energy.
Inuit community members voiced their concerns about the changing climate and shared stories of sea-ice loss and species never before seen so far north.
Traditional knowledge from Inuit community members – who intimately know the behavior of the winds, sun, plants and animals – is a critical component of WWF-Canada's work in the Arctic. They stressed that renewable-energy deployment must be affordable and take into account the species they depend on for their survival.
Key facts:
67 per cent of all diesel fuel use in power generation in Canada occurs in Yukon, Northwest Territories and Nunavut.
Burning diesel fuel creates harmful air pollution as well as soot, which lands on ice and snow, attracts the sun and accelerates melting.
Arctic sea ice this summer hit the second-lowest minimum on record, putting pressure on wildlife and people in the region who depend on the frozen seas.
About World Wildlife Fund Canada
WWF-Canada creates solutions to the environmental challenges that matter most for Canadians. We work in places that are unique and ecologically important, so that nature, wildlife and people thrive together. Because we are all wildlife. For more info visit wwf.ca