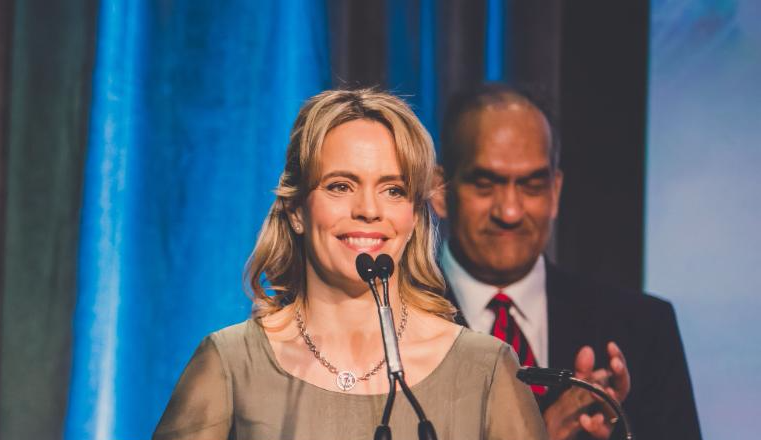 By Nancy Wright, COO, GLOBE Series
I'm honoured and blessed to be selected as a Canada Clean 50 Award recipient for 2017. It's been both my passion and my delight to work for GLOBE all these years, and witness the tremendous change in attitude and practices in the business community over the last two decades. I began as the Marketing Coordinator with GLOBE so many years ago, and I still remember coming in to the office at 1am night after night to reset the fax machine in order to ensure our conference marketing materials would be sent out on time to potential audiences. 
Over the years, I've met so many great people and seen such tremendous action and innovation, it makes me feel proud and humbled to belong to such an important sector and see the fruits of our labour pay off. We've hosted world leaders, a Princess (and Prince) or two, some incredible entrepreneurial visionaries, and some of the most well-known (and well respected) CEOs around. 
Here are the Top 7 things I've learned along the way about climate change and sustainability:

Whether it be cleaner air, cleaner water, chemical-free food, or a plastic-free ocean. No-one wants a filthy, unsustainable, unhealthy environment for themselves or their children. The problem is, we've always looked to our politicians to solve the problems, and they have simply been unable or unwilling to do so alone. The tide is changing; we're finally gaining some traction and looking to business to help find the solutions. But, this is a big sandbox! There is lots of room to play and much demand for many stakeholders: It takes all walks of civil society to work together, and we are finally seeing some real commitment, as evidenced by the Paris agreement signed at COP 21, along with many other local, national, and international actions we see emerging every day.#7 Everyone wants a cleaner world.

Consumers will ultimately turn the tide and demand the sustainable world we all want. They are standing up and starting to embrace their power by putting their dollars and voices where their values are. Millennials are asking tough questions of politicians, employers, corporations, and the like. They are shunning companies lacking transparency, and instead are lining up to work at companies with a strong social purpose.

The need for sustainability-oriented innovation is obvious and widely acknowledged, but innovation alone won't cut it. In addition to technological advances, renewed thinking, and new business models, we need effective implementation. Effective implementation, however, requires the support of a diverse array of stakeholders. It is the ultimate team challenge, and one or two players cannot win the game alone. It requires buy-in from multiple levels of government, business, investors, citizens, and society. In other words, it takes a village.

Musk is a disruptive innovator, a risk taker, and a visionary. It will take a lot of disruptive innovation, in a number of sectors, to help ensure the average temperature around the world does not rise more than 2 degrees, and that our land, air and water is clean. The largest impact will come from digitization – turning the business processes of numerous sectors on their heads, making them uber resource efficient, less wasteful, and utilizing real-time measurement to monitor success and cut both carbon emissions and costs. Musk was one of the first true mavericks who turned an automobile into essentially a computer on wheels. Numerous sectors will soon follow his lead. The bottom line – we need to make big, bold moves if we want a cleaner planet.

Economic success, environmental protection, and social responsibility are a winning combination. More and more of our clients are proving it: sustainability, and a strong social purpose, can add business value and reduce risk, while protecting people, the planet and corporate reputation. Many companies are embedding this in their culture, and it comes from the top down. With out-of-the-box thinking, any company can move the needle on social challenges while creating economic value. Many have laid the groundwork – such as Etsy, Unilever, and Google to name a few – and they are reaping the rewards. Unilever's Dove Campaign for Real Beauty has achieved such success for the product line, it has literally become one of modern marketing's most talked-about success stories. #3 Doing good and being successful go hand-in-hand.

We're probably grossly underestimating the speed upon which climate change is happening. The global change in average temperatures poses tremendous potential risks to corporations and an existential threat to civilization as a whole. It's imperative that we get a handle on global warming because the repercussions of not doing so will be enormous.

The people who work in this industry, those who work tirelessly to find solutions to environmental and associated social challenges, are good – actually, great – people. I'm blessed to have spent my career working with them. They all want to protect the planet, conserve precious natural resources, and leave a cleaner, healthier world for their children. What could be better than surrounding yourself with colleagues who have such great values?
---
Nancy Wright, is the Chief Operating Officer of GLOBE Series, based in Vancouver. GLOBE Series has been curating world-renowned international events aimed at accelerating the business of the environment since 1993.  For information on upcoming events or to inquire about GLOBE assisting with your events, contact Nancy directly at 604-695-5000 or nancy.wright@GLOBESeries.com.