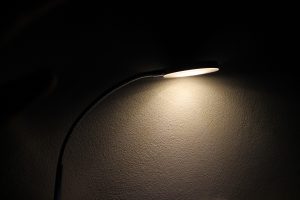 By: Megan R. Nichols
Everyone tends to take lighting for granted. Yet there's a lot riding on having the proper lighting for commercial buildings. What's more, the wrong lighting can lead to serious and expensive problems. Here are four factors to consider.
Replacing Older Lighting May Have a Major Energy-Saving Impact
Many decision-makers in business settings wonder how much energy they might save by transitioning to energy-saving options like light-emitting diode (LED) bulbs. Compact fluorescent lamps (CFL) and halogen incandescent lights are the two other most commonly available types of energy-saving lighting options to consider.
Statistics indicate that, in the U.S. alone, industrial lights consume 58 terawatt-hours of energy. Using industrial LED lighting instead could reduce the usage to 52 terawatt-hours — enough to deliver electricity to 37 million homes.
Any business, whether a fashion retailer, a health care clinic or a distribution center, could benefit from the energy-savings of LED bulbs. UrbanVolt is a company in Ireland that replaces older lighting with LED bulbs at businesses. They make the switch for free and take a share of the money saved by enterprises over five years. The company claims it helped its Irish customers save €40 million in energy costs in two years — the equivalent of taking 3,585 homes off the grid.
LED lights last longer, making them easier to maintain than other options, not to mention cheaper since they don't need replacing as often. Plus, even though LED lights provide substantial energy savings, they offer more output. That benefit assists anyone in the environment, like employees doing delicate or challenging tasks and shoppers evaluating items before purchasing them.
Insufficient Lighting Can Leave Companies Liable to Safety Issues
Inadequate lighting typically isn't the main reason why people file lawsuits, but it's often a contributing factor to accidents and even fatalities.
Beyond potential lawsuits from employees or their loved ones, the Occupational Safety and Health Administration (OSHA) has minimum lighting requirements to keep workers safe. Failing to meet them could lead to fines.
Poor lighting makes it difficult for people to see obstacles in their path, which may make them more likely to slip and fall. Conversely, adequate lighting creates a high-contrast situation where individuals are more able to spot problems and avoid or report them.
Lighting enhancements can save money by reducing energy usage. What people often don't realize is that emphasizing safety with lighting is cost-saving, too, since it minimizes risks that could otherwise prove expensive if left unaddressed.
Good Lighting Promotes Satisfaction
Poor illumination can detract from the  experiences of office employees, factory workers, consumers and any other parties that spend time in a lighted area. However, a  well-lit room can boost a person's mood by making the environment seem more inviting.
Walking into a bright space could help an employee feel happy about coming to work and ready to contribute to the company's success. Concerning retail outlets, adequate lighting is particularly important in stores that sell high-value, intricately detailed items, such as jewelry or collectibles. It's advantageous for any store, though, since having enough light can help a person choose the items they want or need to buy.
Lighting also keeps people safer while they do potentially dangerous tasks, such as those requiring sharp tools. Even the most skilled workers make mistakes, but abundant light can make those blunders occur less frequently and enable people to fully concentrate on their duties rather than letting poor lighting adversely impact their performance. Eyestrain is another consequence of a poorly lit work setting. The associated symptoms can cause nausea and headaches.
One survey found that comfortable light was second only to air quality when experts asked employees about the workplace perks they wanted most. Companies spend thousands investing in things like on-site gyms, standing desks or coffee bars for their workers. Those benefits aren't necessarily wasteful, but perhaps employers should start with simpler improvements first, with lighting at the top of the list.
The Link Between Lighting and Worker Productivity
Energy-efficient lighting, such as that provided by LEDs, typically gives off less heat than conventional bulbs. For example, incandescent bulbs release 90% of produced energy as heat, while it's about 80% for CFLs. LEDs give off much less heat, and that could be crucial if a company operates in a hot climate or people are doing strenuous tasks during the workday.
Lighting upgrades often simultaneously improve worker productivity and safety. Veeco Services is a logistics company that installed better lighting after an audit showed the existing lights did not give enough illumination and were expensive. The company opted for a smart lighting system that collects data 65 times per second and uses it to make real-time adjustments based on the environment and its occupancy levels.
With the new setup, each smart fixture has a dedicated address, and it can operate as part of a group depending on the state of the surrounding lights. For example, if an employee is in an aisle and areas around them are empty, the lights in those unoccupied places may still turn on to provide better visibility and promote safety as the person tackles their responsibilities.
Researchers have also linked light to overall well-being and health. Having enough light in a work environment can improve cognition and the ability to focus. Plus, when people enjoy good health due to the right lighting and other factors, they're less likely to require unplanned time off from work.
Company leaders may not immediately associate saved money with increased productivity. However, keeping a factory environment to help workers perform at their best is good for business and could help enterprises meet long-term goals.
Choosing the Right Lighting for a Commercial Building
Many people are familiar with Underwriter Laboratories' (UL) and Electrical Testing Laboratories (ETL) listings because most commercial buildings require lighting fixtures to have at least one of those designations to meet building codes. A product that is UL or ETL-listed or certified has proven itself to be safe for the public. As companies start researching the energy-efficient lighting options, it's a good idea to focus on possibilities that are DesignLights Consortium (DLC)-certified.
DLC is a lighting-specific certification that, unlike the Energy Star certification seen on many consumer products, is more for commercial lighting. A light bearing the DLC certification is both high-quality and energy-efficient.
If a building currently has high-intensity discharge lights installed, they're probably the metal halide variety. Those options came on the market in the 1960s and were once among the most energy-efficient options available. However, things have changed. LEDs use about half the energy to deliver the same brightness.
High-bay and low-bay LED options are common choices if selecting lights for a warehouse setting. People should use high-bay fixtures if the ceilings are at least 25 feet high. Low-bay models are better for lower ceiling lights because the high-bay types may not distribute light properly if the ceilings are not tall enough.
Recessed troffers fitted with LEDs are also worth a look, particularly due to their flexibility. Executives may consider a surface or pendant-mounted installation or choose a chain-hung style. Alternatively, LED strip lights are other popular options and often seen in commercial spaces like department stores.
In addition to energy efficiency,  lighting choices should support the typical activities associated with the building, whether it is an office complex, a warehouse or a retail setting. A warehouse where people operate heavy equipment needs sufficient lighting, as does any commercial environment that receives high foot traffic. Well-lit areas help people notice spills, cords and other tripping hazards, plus allows them to feel safer and able to focus.
Save More Money With State and Local Energy-Efficiency Grants
The goal when looking for improved commercial lighting is to find options that help cut costs while catering to the specifics of the enterprise's operations and the needs of people who work there. After coming up with a shortlist of the most appropriate lighting styles, business executives may be able to save money on the upgrades by choosing options that qualify for energy-efficient grants.
Interested individuals should become familiar with what's available in the area and how to apply for opportunities. The money awarded through a grant could also be eligible for spending on smart sensors that let users cut costs by only activating lights when people need them.
Remain Patient to See the Full Results
After commercial operations get new lighting, it's smart to track metrics over a defined period to see the amount of money saved. Another option is to measure whether the impacts of the new lighting are especially notable in some parts of the business compared to others. Having those statistics to refer to over time will help people examine the payoffs of upgrading the lighting, plus facilitate deciding when or if to make further associated improvements.
---
Megan R. Nichols frequently contributes to Globe-Net. She enjoys covering environmental topics and green technologies. Read more articles from Megan on her blog, Schooled By Science.
Photo by Timotej Nagy from Pexels