MELBOURNE, Australia, Nov. 5, 2015 — Up to 28 million tonnes of carbon dioxide (CO2) emissions will be captured by existing operational carbon capture and storage (CCS) projects this year, according to a new report launched today.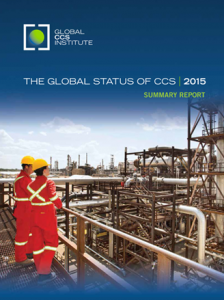 Now in its sixth year, the Global Status of CCS 2015 profiles two large-scale CCS projects — the Canadian Quest project and the Uthmaniyah CO2-EOR Demonstration Project in the Kingdom of Saudi Arabia. Uthmaniyah is the first large-scale CCS project in the Middle East.
At the launch of this year's report, the number of operational projects stands at 15, with another seven projects in various stages of construction and due to come online in the next 18 months.
"These major projects show CCS is a proven technology that is reducing CO2 emissions by millions of tonnes in different countries around the world," said the CEO of the Global CCS Institute, Brad Page.
"If the world is serious about tackling the reality of climate change, we have to make full use of all available technology options — and especially CCS," said Mr Page.
"CCS has a vital role to play as part of the overall technology mix required to meet the internationally agreed goal of limiting the impact of global warming to two degrees. Now is the time for decision makers to make a renewed commitment to this vital low-carbon technology."
The Intergovernmental Panel on Climate Change's Fifth Assessment Synthesis Report, released in November 2014, highlights the importance of CCS as a vital climate mitigation technology. Without CCS, the cost to avoid a global warming of more than 2 degree Celsius would likely increase by 138 per cent — more than double.
"It's important to realise that CCS is not just about power generation emissions," said Mr Page.
"CCS is the only technology that can achieve large reductions in emissions from industrial processes such as manufacturing iron and steel, chemicals and cement. The industrial sector as a whole accounts for around 25 per cent of the world's CO2 emissions"
Readers can download a copy of the Global Status of CCS 2015: http://status.globalccsinstitute.com/