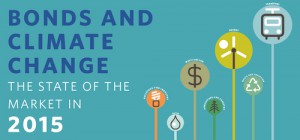 The World Bank is continuing to advance the green bond market with its most recent series of Green Growth Bonds — green bonds with a return linked to an ethical equity index.
This innovative product, developed in partnership with BNP Paribas, is designed to appeal not only to large institutional investors who are the usual buyers of World Bank bonds, but also to individual retail investors.
These investors are looking for opportunities that have a positive impact on the environment and help address climate challenges, while still offering a return on their capital that is potentially higher than other opportunities offered in the current low-interest-rate environment.
Each year, the World Bank — officially known as the International Bank for Reconstruction and Development, or IBRD — issues $30 billion to $50 billion of debt in the global capital markets to finance its lending to client countries. As a triple-A rated institution, the Bank is able to borrow at attractive rates and pass them on to its clients. Much of its debt is purchased by central banks and large institutional investors.
In addition, the Bank also customizes smaller transactions that are designed for retail investors, particularly through the Uridashi market for individual investors in Japan, and now through Green Growth Bonds to climate-aware individuals around the world.
Green Growth Bonds are designed to appeal not only to large institutional investors, but also to individual retail investors.
The Bank has so far launched 12 Green Growth Bonds for investors in Europe (including Belgium, France, Italy, Luxembourg, Monaco, and Switzerland), Asia, and the United States. Some of these bonds have been privately placed with institutional investors or high-net-worth individuals, while others have been marketed to the general public over a period of four to six weeks.
Demand for Green Growth Bonds has been particularly strong in Europe, with final orders exceeding the original targets by more than six times. For example, the first Green Growth Bond, offered in Belgium and Luxembourg, closed with total subscriptions of $91 million, and the second, offered in France, Luxembourg, Monaco, and Switzerland, closed with a total subscription of $103 million, both exceeding the initial target of $15 million within the first week of the subscription period.
A recent transaction launched in the United States closed with total subscriptions of almost $30 million. In Asia, there has been demand from high-net-worth individuals for three Green Growth Bond transactions totaling $60 million.
The strong demand for Green Growth Bonds from individuals not only helps increase awareness about the World Bank as an international development organization committed to tackling climate change with projects financed in its member countries, it also is an encouraging sign that the individuals care about climate change and want to invest their own money in solutions that help address climate challenges.
Over the last several years, the World Bank Treasury has been directly stimulating private sector engagement on climate issues through various initiatives, including its Green Bond Program. Since the first green bond transaction in 2008 the World Bank has issued $8.2 billion in green bonds through 94 transactions in 18 currencies.
The proceeds are supporting 75 climate-friendly projects in 24 countries. Separately, the International Finance Corporation, the World Bank Group's private sector arm, has issued over $3.7 billion in green bonds, including two $1 billion transactions in 2013.
The green bond market is growing rapidly. By the end of 2014, annual issuances reached over $35 billion, more than three times the $11 billion issued the year before. Furthermore, the mix of issuers has evolved from the original multilateral development bank issuers to include local governments and agencies, utility companies, and other corporate issuers.
By the end of 2014, green bonds had been issued in more than 20 different currencies from issuers with credit ratings ranging from triple-A to single-B.
Large institutional investors have been important buyers of green bonds. More and more fixed-income investors have started incorporating environmental, social, and governance considerations into their investment process. They are also looking to reduce the climate risks in their portfolio and explicitly support projects with a climate focus. Green bonds provide an investment option that meets these objectives while providing a financial return in line with other comparable bonds.
With its latest Green Growth Bond product, the World Bank is now also engaging private individuals by providing them with an investment opportunity that provides a financial return linked to an ethical equity index where the proceeds will be used to support projects that address climate change.
Green Growth Bonds provide investors with 100% principal protection based on the World Bank's triple-A credit rating. The return is linked to the long-term performance of the Ethical Europe Equity Index.
The index consists of 30 European stocks, selected for inclusion based on an analysis by Vigeo, an independent environmental, social, and governance rating agency, and Forum Ethibel, an independent Belgian consulting agency that rates and audits sustainability, ethics, and social responsibility metrics of corporations. The index is owned, calculated, and managed by Solactive, a global index provider.