By Tim Radford
LONDON, 6 August, 2018 – By the close of the century, the two-fisted assault of extreme heat and humidity could make the North China plain a deadly zone.
As water vapour rises from irrigated farmland, in heat extremes which are likely if humans go on burning ever-greater quantities of fossil fuels, then air temperatures and moisture conditions could become such that outdoor workers could no longer cool by perspiration.
In such circumstances no normal healthy person could survive more than six hours. And since 400 million people already live on the North China plain, by 2070 the consequences of ever-greater temperatures could be devastating, according to new research in the journal Nature Communications.
Simultaneously, a second study in a separate journal confirms that by 2080 excess deaths from extremes of heat will have risen in the tropics, subtropics and even the temperate zones.
In three of Australia's great cities, deaths from heat waves will have risen by more than 470%.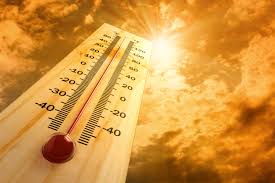 "Future heatwaves in particular will be more frequent, more intense and will last much longer"
The warning for China – which already emits more greenhouse gases than any other nation – is based on what meteorologists call "wet bulb" temperature, the combination of heat and humidity. When this climbs towards the natural body temperatures of humans and other mammals, conditions become dangerous. The North China plain covers 400,000 square kilometres of fertile floodplain irrigated by three great rivers.
The alarm is sounded by Elfatih Eltahir and a colleague at Massachusetts Institute of Technology in the US.
Professor Eltahir first identified the additional hazard of humidity in extremes of heat with a simulation of close-of-the-century temperatures that pinpointed the Gulf region, between Iran and the Arabian peninsula, as the zone where temperatures could become lethal. But the worst extremes would be over water.
A second examination of likely conditions under what climate scientists call the "business-as-usual" scenario, in which nations go on burning fossil fuels and emitting greenhouse gases in ever-increasing quantities, pinpointed Asia as the continent most at risk of lethal heat extremes for the greatest numbers of people.
The latest study is a refinement of the projections, and is based on evidence from the most recent three decades. Warming in the North China region has been double the global average – 0.24°C per decade compared to 0.13°C for the rest of the world. In 2013 there were extremes of heat that lasted for up to 50 days, and maximum temperatures topped 38°C (around the accepted limit for humans).
Irrigation key
And the potential lethal factor for the region is likely to be irrigation: rainfall in the north is low, and evaporation from the soil moisture adds around another 0.5°C to local temperatures. Water vapour is itself a greenhouse gas.
"This spot is just going to be the hottest spot for deadly heat waves in the future, especially under climate change," said Professor Eltahir.
That extremes of heat combined with higher hazards from humidity are already on the increase, and will continue with ever-greater ratios of carbon dioxide in the atmosphere, is firmly established. A second international study, in the Public Library of Science journal PLOS Medicine, looks at the risks for more than 400 communities in 20 countries for the decades 2031 to 2100, and once again it is based on a business-as-usual scenario, and data from recent decades.
If the world goes on warming according to the gloomiest predictions, the levels of heat-related excess mortality, the statistician's phrase for death by heatstroke or heat exhaustion, then deaths in Colombia will by 2080 have risen by 2,000%. Even in Moldova, the sample country with the lowest risk, they will have risen by 150%. In Brisbane, Sydney and Melbourne, the hazard will have soared by 470%.
Inexorable rise
That heat can kill has been known for decades, and the tens of thousands of extra deaths during heatwaves in Europe in 2003, and Russia in 2010, were harsh reminders. More extremes of temperature are inevitable.
Research of this kind is intended to encourage thinking about ways in which health authorities and city bosses could act to reduce the hazard. But for a global problem, a global solution could be the surest answer.
"Future heatwaves in particular will be more frequent, more intense and will last much longer," said Yuming Guo of Monash University in Australia, who led the research.
"If we cannot find a way to mitigate climate change (reduce the heatwave days) and help people adapt to heat waves, there will be a big increase of heatwave-related deaths in the future, particularly in poor countries located around the equator." – Climate News Network