There's a difference between leaders who focus on immediate concerns, the chronic concerns of the region, and those who focus on the long-term, the acute stresses or shocks that may not even happen in their lifetimes. The former leaders may win the votes; but it is the latter leaders who will be remembered for their foresight and courage.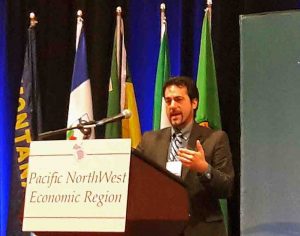 That was one of the key take away messages from Evan Reis, Executive Director and co-founder of the U.S. Resiliency Council in a July 24th keynote address at the 2018 Summit of the Pacific Northwest Economic Region in Spokane, Washington.
Reis, a licensed professional structural engineer was speaking about the importance of long-range resiliency planning to minimize to the fullest extent possible the traumatic consequences of natural disasters such as floods, wildfires or earthquakes.
"We can't avoid these shocks altogether", noted Reis. "Natural disasters are a part of our lives in most areas of the country. It's not whether they will happen, but when."
And the issue with respect to resiliency is how can we minimize the risks of devastating property damage or loss of life by careful pre-planning; and how quickly can a community or a business  recover.
Catastrophic Devastation or Manageable Recovery
The difference between catastrophic devastation and manageable recovery following a disastrous event often can be traced back to decisions made decades earlier.
Citing a 'Tale of Two Cities', in this case Houston Texas and Santa Monica California, Reis noted that in the 1940's civic planners in Houston, knowing the city was vulnerable to flooding from precipitation or hurricanes, passed tough zoning laws and built two very large retention ponds into which water would flow to protect the main city in time of crisis.
Over the years, however, the need for affordable housing, and new businesses led to relaxing the zoning laws and the areas around the reservoirs were extensively developed.
In August 2017. when hurricane Harvey struck, water flooded those areas causing over $125 billion in damages that will take years to recover. Just like a super storm Sandy and Hurricane Katrina, Reis noted.
By comparison, when the Northridge earthquake hit Santa Monica California in 1994, even though the city avoided the most direct impacts, city leaders decided to implement one of the nation's first retrofit ordinances for unreinforced masonry built structures.
Municipal leaders said, 'eventually there is going to be an earthquake and we have the most vulnerable types of buildings in the country.' Despite some push back, ultimately Santa Monica became the first city in the nation to pass a comprehensive retrofit ordinance that would require over the next 20 years the retrofitting of buildings most vulnerable to earthquakes.
A Question of Leadership
Planners and civic leaders in both cities demonstrated great leadership, foresight and courage, said Reis.
"People do remember those city planners in Houston back in the 40s that did build those reservoirs and even though they didn't listen to them much after that they were remembered as having great foresight." What the future holds for Santa Monica is still unknown.
Fear, Hope, and a Plan
In describing the work of the U.S. Resiliency Council, Reis noted working with stakeholders to promote resilience generally involves a three-step process. "We call that that process Fear plus, Hope and a Plan."
"The first step is fear but fear alone is obviously not enough to drive action. You have to have hope right so the second strategy that we talk about is Hope –  there are solutions to the problem."
The third and most important element is The Plan, looking at how to build a more resilient community, or more resilient buildings.
"Avoidance is the thing that happens when you build buildings stronger, when you make them less likely to suffer damage in a natural disaster, or when you retrofit older buildings that don't comply with current codes."
This is a hard lesson for some people to absorb, noted Reis, but the message gets through when we talk about how to achieve better performance by using more resilient building systems, more resilient building materials, and about retrofitting existing buildings.
Most of the more vulnerable buildings in our cities and towns were built before modern building codes were enacted. They clearly are highly vulnerable to disasters.
By looking at the return on investment from better performing buildings and seeing how reduced downtime after a disaster affects businesses and communities, the benefits of resiliency planning become readily apparent, he said.
Natural Disasters are part of our lives
The key lesson to be learned, said Reis, is that disasters are going to happen at some point, and the decisions that leaders make today may not benefit them during their time in office, or during their time as the head of a company, or even during their lifetime. But they will happen.
"If we think about the long-term it means that future generations are as important to us as our own generation. We don't have to be the one that cuts the ribbon, but somebody will be around, and people will be affected just like during the floods in Houston, or hurricanes in Miami or the wildfires in the Northwest."
The low cost of resiliency
Surprisingly, he noted, resiliency measures don't have to break the bank. When designing a new building, adjusting the minimum codes to make it safe during a large earthquake represents only 1% to 3% of the total cost of that building.
"You can typically design it so that it will not only be life safe, but it will be repairable and reoccupy within a matter of days or weeks."
Wrapping up his comments, Reid noted "I want us all, whether it's in our communities our businesses or our families, to be able to have that sense of knowing that we will be remembered for contributing to the solution."
His Keynote Address was sponsored by the Pacific Northwest Building Resilience Coalition, a group of industry association in Oregon, Washington, British Columbia and Alberta working to expand awareness of the need for building better buildings to withstand the impacts of a dramatically changed natural and social environment.
The Coalition works closely with national organizations both in Canada and the United States to promote more energy efficient and resilient buildings and community infrastructure.
A video of his Keynote address is available here, along with introductory comments by William Larson, Vice President Marketing, CalPortland, and Chair of the Building Resilience Coalition Steering Committee.