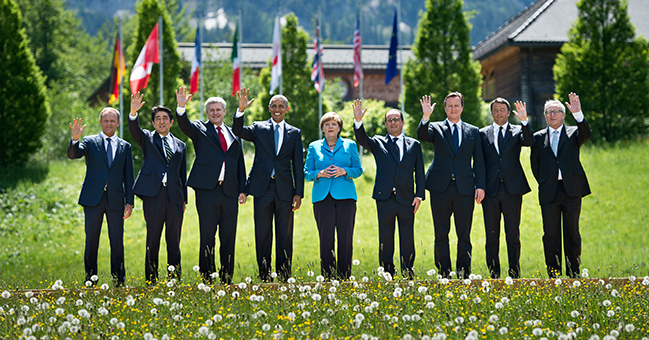 GLOBE-Net, June 10, 2015 – Much of the climate related media attention and subsequent commentary in the wake of last week's G-7 Summit focused on the agreement of the assembled leaders to significantly reduce greenhouse gas emissions by 2050 and to end the use of fossil fuels by the end of the century.
Significant as these two points were, there were many other climate change, energy, and environmental issues decided at that meeting which deserve closer attention. This excerpt from the official communique touches on somne of the key points worth noting.
Here are the key points of the Communique:
Climate Change
Urgent and concrete action is needed to address climate change, as set out in the IPCC's Fifth Assessment Report. We affirm our strong determination to adopt at the Climate Change Conference in December in Paris this year (COP21) a protocol, another legal instrument or an agreed outcome with legal force under the United Nations Framework Convention on Climate Change (UNFCCC) applicable to all parties that is ambitious, robust, inclusive and reflects evolving national circumstances.
The agreement should enhance transparency and accountability including through binding rules at its core to track progress towards achieving targets, which should promote increased ambition over time. This should enable all countries to follow a low-carbon and resilient development pathway in line with the global goal to hold the increase in global average temperature below 2 °C.
Mindful of this goal and considering the latest IPCC results, we emphasize that deep cuts in global greenhouse gas emissions are required with a decarbonisation of the global economy over the course of this century.
Accordingly, as a common vision for a global goal of greenhouse gas emissions reductions we support sharing with all parties to the UNFCCC the upper end of the latest IPCC recommendation of 40 to 70 % reductions by 2050 compared to 2010 recognizing that this challenge can only be met by a global response.
We commit to doing our part to achieve a low-carbon global economy in the long-term including developing and deploying innovative technologies striving for a transformation of the energy sectors by 2050 and invite all countries to join us in this endeavor. To this end we also commit to develop long term national low-carbon strategies.
The G7 welcomes the announcement or proposal of post-2020 emission targets by all its members, as well as the submission of intended nationally determined contributions (INDC) and calls upon all countries to do so well in advance of COP21. We reaffirm our strong commitment to the Copenhagen Accord to mobilizing jointly USD 100 billion a year by 2020 from a wide variety of sources, both public and private in the context of meaningful mitigation actions and transparency on implementation.
Climate finance is already flowing at higher levels. We will continue our efforts to provide and mobilize increased finance, from public and private sources, and to demonstrate that we and others are well on our way to meet the USD 100 bn goal and that we stand ready to engage proactively in the negotiations of the finance provisions of the Paris outcome.
We recognize the potential of multilateral development banks (MDBs) in delivering climate finance and helping countries transition to low carbon economies. We call on MDBs to use to the fullest extent possible their balance sheets and their capacity to mobilize other partners in support of country-led programs to meet this goal. We thank the presidency for the publication of the Background Report on Long-Term Climate Finance and call for a further exchange in all relevant fora in view of COP 21.
Mobilization of private sector capital is also crucial for achieving this commitment and unlocking the required investments in low-carbon technologies as well as in building resilience against the effects of climate change. To overcome existing investment barriers finance models with high mobilization effects are needed.
To this end, we will:
a) Intensify our support particularly for vulnerable countries' own efforts to manage climate change related disaster risk and to build resilience.
We will aim to increase by up to 400 million the number of people in the most vulnerable developing countries who have access to direct or indirect insurance coverage against the negative impact of climate change related hazards by 2020 and support the development of early warning systems in the most vulnerable countries.
To do so we will learn from and build on already existing risk insurance facilities such as the African Risk Capacity, the Caribbean Catastrophe Risk Insurance Facility and other efforts to develop insurance solutions and markets in vulnerable regions, including in small islands developing states, Africa, Asia and Pacific, Latin America and the Caribbean as set out in the annex.
b) Accelerate access to renewable energy in Africa and developing countries in other regions with a view to reducing energy poverty and mobilizing substantial financial resources from private investors, development finance institutions and multilateral development banks by 2020 building on existing work and initiatives, including by the Global Innovation Lab for Climate Finance as set out in the annex.
We also reaffirm our ambition to make the Green Climate Fund fully operational in 2015 and a key institution of the future climate finance architecture.
We remain committed to the elimination of inefficient fossil fuel subsidies and encourage all countries to follow and we remain committed to continued progress in the OECD discussions on how export credits can contribute to our common goal to address climate change.
We pledge to incorporate climate mitigation and resilience considerations into our development assistance and investment decisions. We will continue our efforts to phase down hydrofluorocarbons (HFCs) and call on all Parties to the Montreal Protocol to negotiate an amendment this year to phase down HFCs and on donors to assist developing countries in its implementation.
In order to incentivize investments towards low-carbon growth opportunities we commit to the long-term objective of applying effective policies and actions throughout the global economy, including carbon market-based and regulatory instruments and call on other countries to join us.
We are committed to establishing a platform for a strategic dialogue on these issues based on voluntary participation and in cooperation with relevant partners, including the World Bank.
Energy
We reaffirm our commitment to the energy security principles and specific actions decided in Brussels in 2014, welcome the progress achieved since then under the Rome G7 Energy Initiative and will continue their implementation. Moreover, we welcome the G7 Hamburg Initiative for Sustainable Energy Security, in particular the additional concrete joint actions to further strengthen sustainable energy security in the G7 countries and beyond.
Notably, we reaffirm our support for Ukraine and other vulnerable countries in their ongoing efforts to reform and liberalize their energy systems and reiterate that energy should not be used as a means of political coercion or as a threat to security. We welcome the intention of the Ukrainian government to reduce energy-related subsidies and invest in energy efficiency programmes.
In addition, we intend to continue our work on assessments of energy system vulnerabilities. Moreover, we will work on strengthening the resilience and flexibility of gas markets, covering both pipeline gas and liquefied natural gas. We regard diversification as a core element of energy security and aim to further diversify the energy mix, energy fuels, sources and routes.
We will strengthen cooperation in the field of energy efficiency and launch a new cooperative effort on enhancing cybersecurity of the energy sector. And we will work together and with other interested countries to raise the overall coordination and transparency of clean energy research, development and demonstration, highlighting the importance of renewable energy and other low-carbon technologies. We ask our Energy Ministers to take forward these initiatives and report back to us in 2016.
Resource Efficiency
The protection and efficient use of natural resources is vital for sustainable development. We strive to improve resource efficiency, which we consider crucial for the competitiveness of industries, for economic growth and employment, and for the protection of the environment, climate and planet. Building on the "Kobe 3R Action Plan", and on other existing initiatives, we will continue to take ambitious action to improve resource efficiency as part of broader strategies to promote sustainable materials management and material-cycle societies.
We are establishing the G7-Alliance on Resource Efficiency as a forum to share knowledge and create information networks on a voluntary basis. As set out in the annex, the Alliance will collaborate with businesses, SMEs, and other relevant stakeholders to advance opportunities offered by resource efficiency, promote best practices, and foster innovation.
We acknowledge the benefits of collaborating with developing countries on resource-efficiency, including through innovative public private partnerships. We ask the UNEP International Resource Panel to prepare a synthesis report highlighting the most promising potentials and solutions for resource efficiency. We further invite the OECD to develop policy guidance supplementing the synthesis report.
Protection of the Marine Environment
We acknowledge that marine litter, in particular plastic litter, poses a global challenge, directly affecting marine and coastal life and ecosystems and potentially also human health. Accordingly, increased effectiveness and intensity of work is required to combat marine litter striving to initiate a global movement.
The G7 commits to priority actions and solutions to combat marine litter as set out in the annex, stressing the need to address land- and sea-based sources, removal actions, as well as education, research and outreach.
We, the G7, take note of the growing interest in deep sea mining beyond the limits of national jurisdiction and the opportunities it presents. We call on the International Seabed Authority to continue, with early involvement of all relevant stakeholders, its work on a clear, effective and transparent code for sustainable deep sea mining, taking into account the interests of developing states.
Key priorities include setting up regulatory certainty and predictability for investors and enhancing the effective protection of the marine environment from harmful effects that may arise from deep sea mining. We are committed to taking a precautionary approach in deep sea mining activities, and to conducting environmental impact assessments and scientific research.
Development
Post-2015 Agenda for Sustainable Development
2015 is a milestone year for international sustainable development issues. The Third International Conference on Financing for Development in Addis Ababa, the UN Summit for the adoption of the Post-2015 agenda in New York and the Climate Change Conference in Paris will set the global sustainable development and climate agenda for the coming years.
We are committed to achieving an ambitious, people-centred, planet-sensitive and universally applicable Post-2015 Agenda for Sustainable Development that integrates the three dimensions of sustainable development – environmental, economic and social – in a balanced manner.
The agenda should complete the unfinished business of the Millennium Development Goals, end extreme poverty, leave no-one behind, reduce inequality, accelerate the global transition to sustainable economies, promote sustainable management of natural resources, and strengthen peace, good governance and human rights. In order to mobilize appropriate action in and by all countries and by all stakeholders, we support the formulation and communication of key policy messages.
We are committed to building a new global partnership based on universality, shared responsibility, mutual accountability, efficient and effective monitoring and review and a multi-stakeholder approach to our common goals of ending extreme poverty by 2030 and transitioning to sustainable development.
To help foster this new transformative agenda, we have committed to significant measures on global health, food security, climate and marine protection, sustainable supply chains and women's economic empowerment.
Collectively, we commit to supporting furthering financial and non-financial means of implementation, including through domestic resource mobilization, innovative financing, private finance, official development and other assistance and an ambitious policy framework.
We reaffirm the essential role that official development assistance (ODA) and other international public finance play as a catalyst for, and complement to, other sources of financing for development. We reaffirm our respective ODA commitments, such as the 0.7% ODA/GNI target as well as our commitment to reverse the declining trend of ODA to the Least Developed Countries (LDCs) and to better target ODA towards countries where the needs are greatest. We also commit to encouraging private capital flows.
Food Security
Good governance, economic growth and better functioning markets, and investment in research and technology, together with increased domestic and private sector investment and development assistance have collectively contributed to increases in food security and improved nutrition.
As part of a broad effort involving our partner countries, and international actors, and as a significant contribution to the Post 2015 Development Agenda, we aim to lift 500 million people in developing countries out of hunger and malnutrition by 2030. The G7 Broad Food Security and Nutrition Development Approach, as set out in the annex, will make substantial contributions to these goals.
We will strengthen efforts to support dynamic rural transformations, promote responsible investment and sustainable agriculture and foster multisectoral approaches to nutrition, and we aim to safeguard food security and nutrition in conflicts and crisis. We will continue to align with partner countries strategies, improve development effectiveness and strengthen the transparent monitoring of our progress.
We will ensure our actions continue to empower women, smallholders and family farmers as well as advancing and supporting sustainable agriculture and food value chains. We welcome the 2015 Expo in Milan ("Feeding the Planet – Energy for Life") and its impact on sustainable agriculture and the eradication of global hunger and malnutrition.
And finally: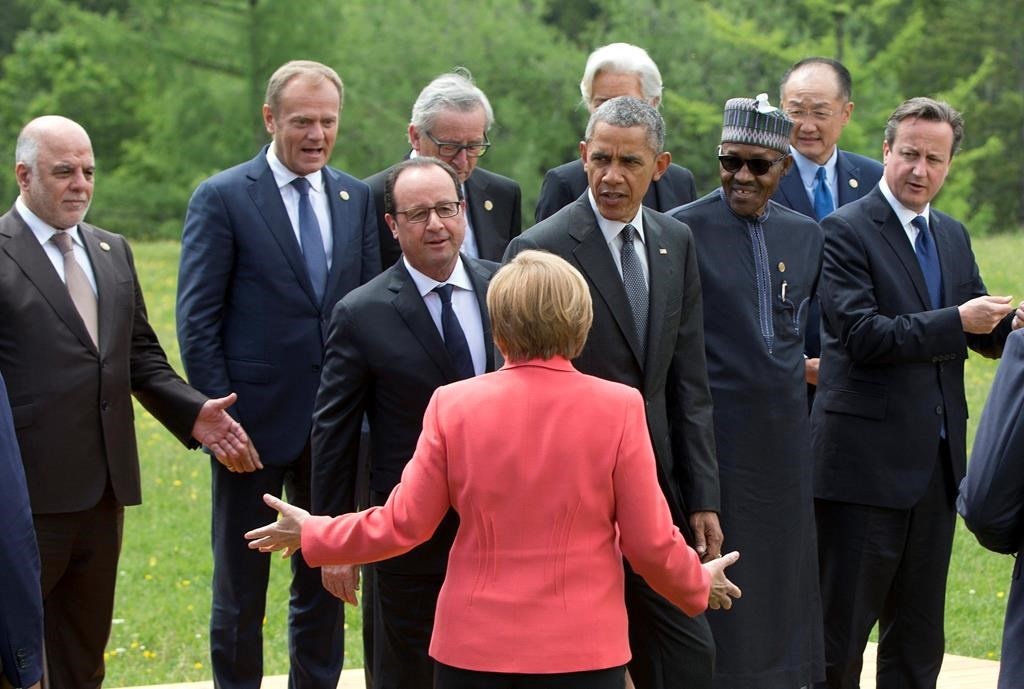 G7 Accountability
We remain committed to holding ourselves accountable for the promises we have made in an open and transparent way.