Vancouver, B.C., July 15, 2016 – Light House Sustainable Building Centre is launching a National Industrial Symbiosis Program (NISP) pilot in the BC Lower Mainland.
The program launch is upported by the City of New Westminster, City of Surrey, BC Innovation Council, and BC Ministries of Environment; Energy and Mines; Agriculture; Community Services & Community Development; Technology, Innovation and Citizen Services; and Jobs, Tourism and Skills Training,
Industrial Symbiosis can be thought of as business synergies, especially where the waste or by-product (solids, liquids or energy) from one business becomes a useful input to another.
Industrial symbiosis ultimately reduces cost to businesses and strengthens competitiveness all while diverting waste and reducing greenhouse gases.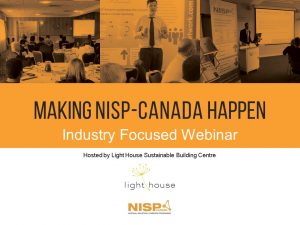 The NISP model has been audited and proven to deliver dramatic economic and environmental benefits to participating businesses.
For example, in the first 5 years of the program in the UK, businesses saved £156 Million (~265 Million CAD).
Every single symbiosis opportunity represents a cleantech solution, and, based on international experience, 20% of those involve innovation, such as new product development or tech transfer across sectors
Developed in the UK in 2005, the NISP model has since been successfully adapted to 21 countries.  Businesses of all sizes, from micro-enterprises to multi-nationals, and from sectors as diverse as construction, agriculture and manufacturing are benefiting from the program internationally.
Businesses come together at free, facilitated workshops to identify symbiosis opportunities. Locally-based, NISP-trained practitioners then work with businesses to shepherd symbiosis opportunities from idea to implementation.
If you are interested in how this can work for you, please join Light House for webinars to introduce the program, and how you may get involved once the Pilot begins.
Space is limited. Your advance registration July 20th, 2016 from 10-11am PST or August 3rd, 2016 from 10-11am PST is appreciated.
If you have any questions, please contact Katherine Bergeron at katherine@lhsbc.com