WASHINGTON – May 24, 2017 – Cities and businesses both face the threat of damaged infrastructure and disrupted operations due to climate impacts. A new C2ES guide outlines ways cities can collaborate with the local business community to strengthen climate resilience.
To create the Guide to Public-Private Collaboration on City Climate Resilience Planning, C2ES brought together local government and business officials in Kansas City, Mo.; Miami Beach, Fla.; Phoenix; and Providence, R.I., to assess each city's climate preparedness and prioritize resilience needs.
The impacts of climate change are being felt today – including more frequent and intense storms, heat waves, droughts, and rising sea level. These impacts take a human and economic toll on cities and the businesses operating in them. Despite the common threat, little guidance exists for how the public and private sectors can work together to prepare.
Each city has a unique economic make-up and faces different climate threats, but common threads led to recommendations for any city leader to invite and promote business collaboration, including:
Build resilience planning on the foundation of existing public-private programs and partnerships across city departments.
Show businesses that climate resilience planning is a key priority, and set up a process for continual collaboration to demonstrate that business involvement is valued.
Work with partners, including in academia and state and federal government, to develop localized data on climate threats to emphasize the business case for resilience planning.
Tailor the approach depending on the industry and size of the business.
Explore innovative financing for resilience projects, including public-private partnerships and insurance incentives.
"Every city hit by a severe storm understands the need for resilience and fast disaster recovery," said C2ES President Bob Perciasepe. "Businesses need climate-resilient public infrastructure to maintain business continuity. Cities need climate-resilient businesses to maintain the economic health of the community. It only makes sense for them to work together."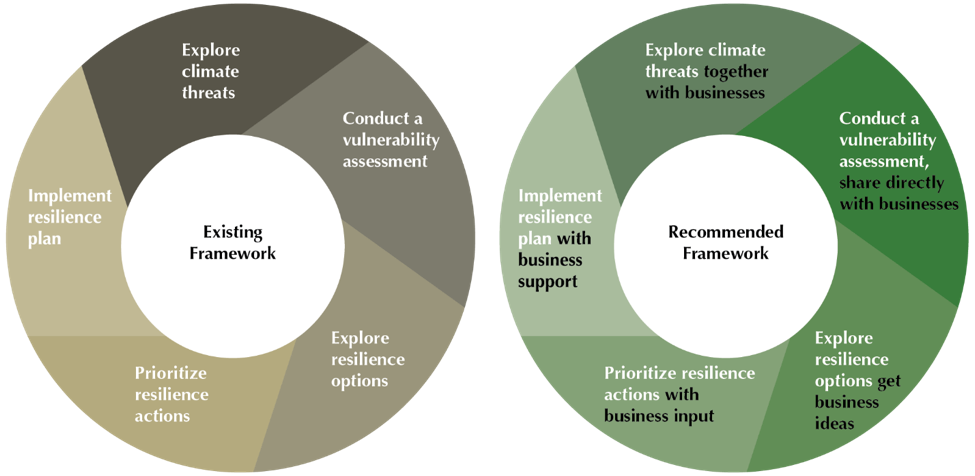 Just as cities and businesses jointly suffer the negative impacts of climate change, they may jointly benefit from the economic development opportunities that come from improving resilience, according to the guide. Upgrading or relocating infrastructure, implementing energy efficiency projects, building microgrids, and restoring natural ecosystems can improve resilience and create jobs.
Cities and businesses bring complementary strengths to climate resilience planning. Businesses may have data analysis and emergency response resources that would be helpful to cities. Cities, meanwhile, often find it easier to plan for the longer term.
Expanding the stakeholders involved in resilience planning can also increase political support and the willingness to devote public resources to the topic.
The Guide to Public-Private Collaboration on City Climate Resilience Planning was created with support from Bank of America.