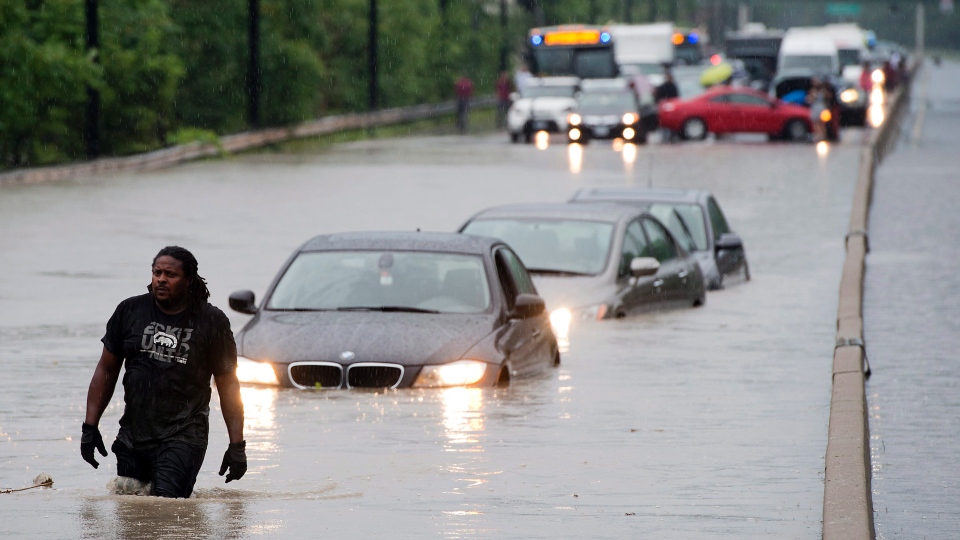 GUELPH, ON, May 21, 2015  – A study released today assesses the level of preparedness of 15 major Canadian cities to limit flood damage.
Commissioned by The Co-operators and written by Dr. Blair Feltmate from the Faculty of Environment at the University of Waterloo, the report aims to motivate cities to increase efforts to build resilience against flooding, and to provide a benchmark against which their progress can be measured.
Researchers examined the cities' preparedness for flooding caused by extreme rainfall, relative to 16 areas of flood vulnerability. It identified four key areas of strength and several outstanding challenges facing municipalities.
Relative to strengths, the study found that most Canadian cities mandate the installation of backwater valves for new home construction – this is an effective step to prevent water from entering a house through the basement drain when sewer systems are overwhelmed during a storm.
Another area of strength was the development of up-to-date flood plain maps, which most cities have undertaken to predict the extent of storm-related flood coverage.
Similarly, in most cities, land use planners are using the maps to restrict building in flood prone areas. Urban drainage maintenance was also on the increase, as municipalities strive to keep culverts, grates and storm sewer systems clear in anticipation of flooding.
"Flooding is by far the most common type of natural disaster in Canada, and there is a wide range of actions that can be taken to build a city's resilience to its destructive force," said Kathy Bardswick, president and CEO of The Co-operators.
"This is a valuable piece of research that can serve as a benchmark and a resource for all Canadian cities, to help motivate them to step up their efforts to protect people and property from flooding."
In addition to the four areas of strength mentioned above, the study examined a number of issues including electricity and petroleum supply, food and water, telecommunications systems, transportation, banking and financial services, and emergency responders, among others.
The cities' overall scores for flood preparedness are:
| | | | | | |
| --- | --- | --- | --- | --- | --- |
| 1. | Ottawa  | A-   | 9. | Fredericton  | C |
| 2. | Winnipeg  | B+    | 10. | Whitehorse  | C |
| 3. | Calgary  | B   | 11. | Charlottetown  | C- |
| 4. | St. John's  | B   | 12. | Quebec City  | C- |
| 5. | Toronto   | B-   | 13. | Regina  | C- |
| 6. | Montreal  | B-  | 14. | Vancouver  | C- |
| 7. | Mississauga  | C+  | 15. | Halifax  | D |
| 8. | Edmonton   | C | | | |
This study builds upon two previous research papers: the first, published in the fall of 2013, assessed the viability of overland flood insurance in Canada; and the second, produced a year later, examined priorities for advancing flood resiliency, which were identified by the multi-stakeholder Partners for Action roundtable.
One of the key actionable priorities identified by the stakeholder group was the "Preparedness of Cities," which led to the third report, released today. All three papers are available at cooperators.ca, under About Us/Sustainability/Climate & Insurance.
Work in this area will continue, and will be directed by the recently-announced Partners for Action (P4A) applied research network at the University of Waterloo, co-founded by The Co-operators and Farm Mutual Reinsurance Plan.
About The Co-operators:
The Co-operators Group Limited is a Canadian-owned co-operative with more than $40 billion in assets under administration. Through its group of companies it offers home, auto, life, group, travel, commercial and farm insurance, as well as investment products.
The Co-operators is well known for its community involvement and its commitment to sustainability. The Co-operators is listed among the 50 Best Employers in Canada by Aon Hewitt; Corporate Knights' Best 50 Corporate Citizens in Canada; and the Top 50 Socially Responsible Corporations in Canada by Sustainalytics and Maclean's magazine. For more information visit www.cooperators.ca.