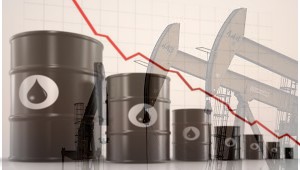 WASHINGTON, July 26, 2016 –  The World Bank is raising its 2016 forecast for crude oil prices to $43 per barrel from $41 per barrel due to supply outages and robust demand in the second quarter.
Oil prices jumped 37 percent in the second quarter of 2016 due to disruptions to supply, particularly wildfires in Canada and sabotage of oil infrastructure in Nigeria.
The revised forecast appears in the World Bank's latest Commodities Markets Outlook and takes into account a recent softening of demand and the recovery of some disrupted supply.
"We expect slightly higher oil prices for the second half of 2016 as oil market oversupply diminishes," said John Baffes, Senior Economist and lead author of the Commodities Markets Outlook. "However, inventories remain very large and will take some time to be drawn down."
Despite the recovery of oil and many other commodity prices in the second quarter of 2016, most commodity indexes tracked by the World Bank are expected to decline this year.
This trend is due to persistently elevated supplies, and in the case of industrial commodities " which include energy, metals, and agricultural raw materials — weak growth prospects in emerging market and developing economies. However, most of the declines are projected to be smaller than expected in the April outlook.
Energy prices, which include oil, natural gas and coal, are due to fall 16.4 percent in 2016, a more gradual decline than the 19.3 percent drop anticipated in April.
Non-energy commodities, such as metals and minerals, agriculture, and fertilizers, are expected to ease 3.7 percent this year, a more moderate contraction than the 5.1 percent retrenchment forecast in the previous outlook.
Metals prices are projected to fall 11 percent in the coming year, a sharper decline than the 8.2 percent drop forecast in April, reflecting weak demand prospects and new capacity coming on line. Agriculture prices are forecast to fall less than projected in April as a result of reduced harvests in South America and plateauing demand for biofuels.
The Bank will release a separate report on July 28, Whither Oil Prices?, which examines the fundamental changes in the behavior of market players and whether the oil market will rebalance over the long term.
The report will also address whether the prospect of sustained, low oil prices will lead to a new social contract in the Middle East and North Africa region.