November 4, 2015 – Zero Waste Scotland has launched two new, easy-to-use guides to help businesses to improve their bottom line figures, just by following some simple energy-saving tips.
The Resource Efficient Scotland Myth Busters and 101 easy ways to cut your energy bill office 'cheat sheet' guides to resource efficiency are aimed at busy business professionals who may be short of time, budget – or both.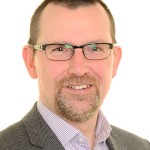 Iain Gulland,  Chief Executive, Zero Waste Scotland (pictured right) , was a Keynote Speaker at the recent Metro Vancouver's Zero Waste Conference, A Future Without Waste.
The Myth Buster guide presents and dispels 14 commonly-held misconceptions about energy saving in a fun, fast and engaging way – and explains what to do instead. It includes:
Turning a thermostat up higher, will not heat a room quicker. So don't touch that dial!
Many people believe screensavers are designed to save energy – they don't. Do you really need one?
Phone and laptop chargers still use up electricity energy when plugged in – even if they're disconnected from the device. Don't forget to unplug them!
The 101 easy ways to cut your energy bill guide is a handy yet extensive list of simple energy – and money – saving tips covering lighting, cooling and ventilation, computing, hot water, catering and business planning. Advice includes:
Reduce your office temperature settings by 1°C. It's unlikely anyone will notice, and you can cut your heating bill by as much as 10%
Be aware of over-lighting. Just as insufficient light causes problems, too much light can lead to glare, eye strain and headaches…and wasted energy
Have ventilation system filters checked regularly to see if they are blocked or creating excessive resistance. Well-maintained equipment works more efficiently and lasts longer.
Use laptops instead of desktop PCs – they use significantly less energy
Resource Efficient Scotland has helped thousands of SMEs in Scotland to look at their resource use and find ways of making savings. On energy alone, the average cost saving identified is over £19,000 per business – very often these savings can be realised by taking simple, no and low-cost action.
The Resource Efficient Scotland SME loan scheme – available through Zero Waste Scotland and funded by the Scottish Government – offers loans of between £1,000 and £100,000 to eligible businesses, to help them to save businesses money while reducing their carbon emissions
Marissa Lippiatt, Head of Resource Efficiency at Zero Waste Scotland said "As resource efficiency specialists we see many opportunities to save energy and money every day in organisations throughout Scotland. Many of the ideas are so simple and straightforward that they don't cost a penny and financial savings can be made straight away."
The guides have been produced specifically with busy business managers in mind, to enable them to implement a range of 'quick wins' which will have a real and lasting positive impact on their business – both financially and in terms of reducing their carbon emissions.
Businesses that take advantage and improve their energy efficiency can prepare their operations to face rising energy prices, increasing climate change legislation and the growing demand for environmentally responsible suppliers.
Both guides can be downloaded in pdf format: