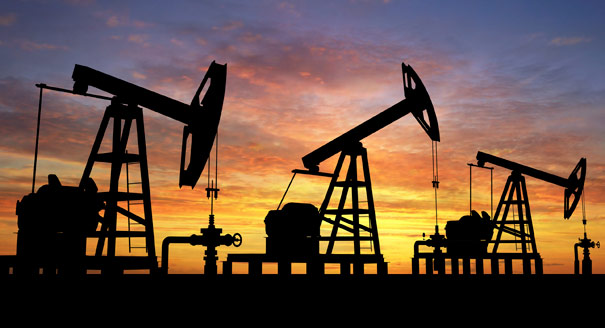 GLOBE-Net, September 21, 2015 – Government support to fossil fuel consumption and production in OECD countries and key emerging economies remains high, at USD 160-200 billion annually, according to a new OECD report. This support is hampering global efforts to curb emissions and combat climate change.
The OECD Inventory of Support Measures for Fossil Fuels 2015 takes stock of almost 800 spending programmes and tax breaks used by governments in the 34 OECD countries and 6 key emerging G20 economies (Brazil, China, India, Indonesia, Russia and South Africa) to encourage the consumption or production of fossil fuels.
These include measures that reduce prices for consumers, as well as those that lower exploration and exploitation costs for oil and gas companies.
"The time is ripe for countries to demonstrate they are serious about combating climate change, and reforming harmful fossil fuel support is a good place to start," said OECD Secretary-General Angel Gurría.
"Governments are spending almost twice as much money supporting fossil fuels as is needed to meet the climate-finance objectives set by the international community, which call for mobilising 100 billion US dollars a year by 2020. We must change the course. This new OECD Inventory offers a roadmap to turn around harmful policies that are a relic of the past, when pollution was still seen as a tolerable side effect of economic growth."
Not only do fossil-fuel subsidies undermine efforts to mitigate climate change, but they are also costly and distortive. By distorting costs and prices, fossil-fuel subsidies generate inefficiencies in the production and use of energy economy-wide.
This can affect the allocation of resources across industries, including by directing long-term capital investment toward sectors that produce fossil fuels or use them intensively, at the expense of cleaner forms of energy and other economic activities more generally.
In so doing, these subsidies accentuate the risk that long-lived capital assets end up locking in polluting technologies for years or decades. '
Fossil-fuel subsidies can also impose considerable strain on government budgets since they either increase public expenditure or reduce tax revenue, and this at a time when many countries are taking painful steps to reduce their public debt.
Although progress has been notable, this edition of the Inventory shows that there remains plenty of room for reform.
Among recent reforms, the OECD pointed to cuts in support by India and Mexico for diesel and gasoline. A fall in oil prices has made it easier to phase out support.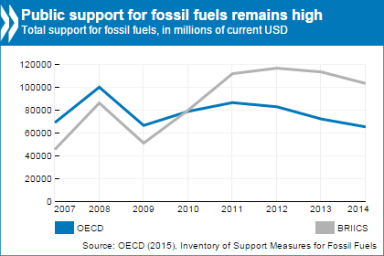 Around two-thirds of the measures identified in the OECD Inventory were introduced before the year 2000, and in a very different economic and environmental context.
Changing policy priorities make it necessary for governments to rethink the relevance and effectiveness of policies that use taxpayers' money to sustain our reliance on fossil fuels.
The OECD Inventory shows that while slight progress has been made over the past three years, total support to fossil fuels remains high, reinforcing the need for sustained reform efforts.
"We're totally schizophrenic," Angel Gurria said at a press conference in Paris on Monday. "We're trying to reduce emissions, and we subsidize the consumption of fossil fuels. These policies are not obsolete, they're dangerous legacies of a bygone era when pollution was viewed as a tolerable side effect of economic growth. They should be erased from the books."
Lower oil prices present a unique opportunity for governments to phase out support for the consumption and production of fossil fuels. In countries that have seized this opportunity, policymakers must consolidate the gains from reform and resist pressure to reintroduce support should fossil fuels become more expensive in the future.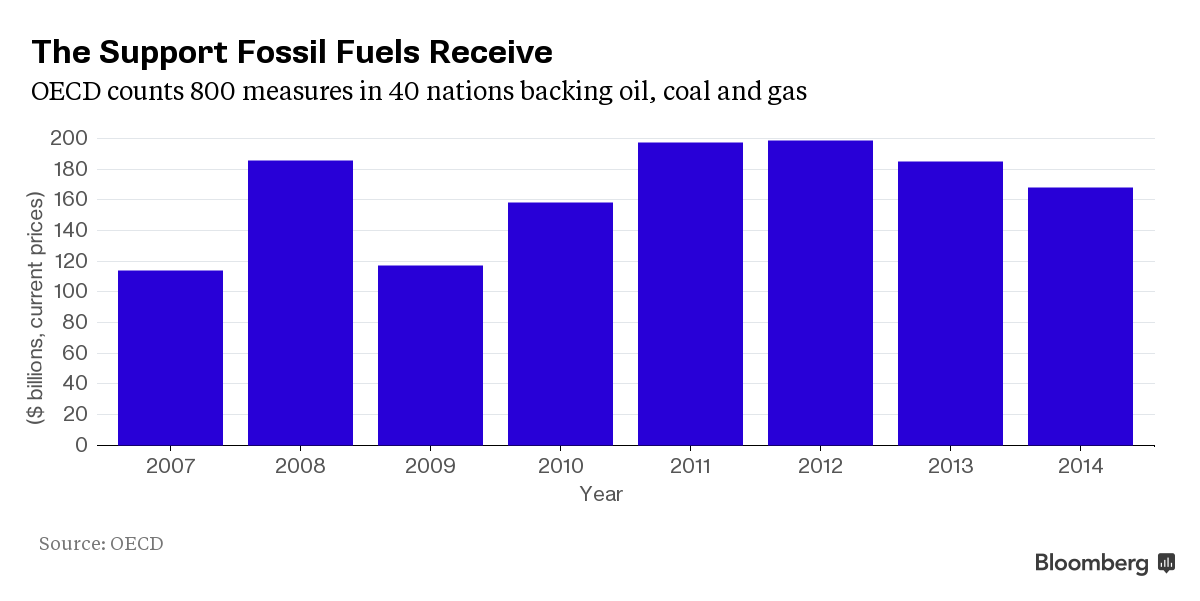 "We're certainly not saying that all the measures are bad," since some are targeted to help poor people afford fuel they need, Jehan Sauvage, the lead author of the OECD report, said in an interview.
"The key message is to ask if this is the best use of public money. Are these measures the best way to support the goals we have?"
Data from the Inventory and the companion publication are available online. More information about the methodology and other details can be found on the OECD fossil fuel support website.