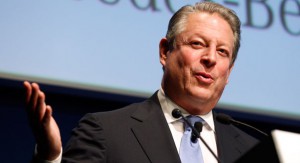 By Alex Kirby
LONDON, 18 June, 2017 – The former US vice-president, Al Gore, has challenged the world to rise to what he calls "the sustainability revolution". Speaking to the winners of the 2017 Ashden Awards, he called the revolution one of the great moral causes of human history.
It was like many of the movements of the past, he said – the abolition of slavery, winning women's suffrage, ending apartheid in South Africa and gaining civil rights in America. http://climatenewsnetwork.net/22453-2/
This year's Ashden winners are nothing if not ambitious. They improve people's health, help school children to learn, ensure their elders can earn a living – and sometimes even manage to reduce violence.
One winner, from Tajikistan in Central Asia, takes a decidedly low-tech approach. It's PamirEnergy, (http://www.pamirenergy.com/ – site under construction) which won the 2017 Ashden Award for Increasing Energy Access. What it does is to rebuild the past: it's restored 11 small hydropower plants and upgraded 4,300 kms of old transmission and distribution lines in eastern Tajikistan.
Winter warmth
PamirEnergy's work means that 96% of the households in the area now have a reliable supply of clean electricity: schools are re-opening, people can look forward to winter warmth (when temperatures can drop to around minus 30-40°C), and deforestation is significantly down (wood was formerly the main heating and cooking fuel, and demand for it destroyed 70% of the local forests).
Not only that: the company has extended its work by exporting surplus energy across the border to the northern Afghan province of Badakhshan. A planned expansion will raise the number of people in Badakhshan with access to electricity from 4% to nearly 50%.
And there's a bonus. Some Afghanis distrust foreign involvement, sometimes extremely violently. But Daler Jumaev, PamirEnergy's director, told Climate News Network: "We're careful not to undermine local know-how, we make the technology accessible and we make sure the Afghanis know they own the project. They're our best customers, and they pay promptly.
"We've never had any security problem in Badakhshan, we've spent zero on security. Our work in Afghanistan is in fact a security belt for Tajikistan, because the Taliban stay out of the electrified areas."
Pollution ended
Another 2017 winner is PEG Africa (PEG stands for Passion, Excellence and Growth), which works in Ghana and Côte d'Ivoire. Its award is for Innovative Finance: it distributes clean energy to the most remote areas, many of them without roads or running water.
PEG provides people with pay-as-you-go solar energy, allowing its customers to stop buying poor-quality polluting fuels like kerosene (which can eat up 30% of their income). The solar power they buy from PEG soon becomes an asset which they own.
PEG has sold 25,000 of its systems. These vary in size and complexity according to customer need. A typical home system includes a solar panel, battery, radio, two or three lamps, a torch, cellphone charger and a TV.  The systems can be fitted with a filter which stops them working if the owner's credit falls to zero.
Financial inclusion
The filter is needed to safeguard one of the key elements of PEG's scheme: its use of mobile money. This, with the mobile telephones themselves, means PEG can reach "the unbanked", those without bank accounts, and supply systems to them on credit.
Nate Heller, PEG Africa's co-founder and chief operating officer, says: "We help to create a credit history for our customers. After a year they will own the product, and over the life of the system they will have saved $1,000 by not needing to buy polluting fuels."
That way, PEG says, it is providing not only energy access, but financial inclusion as well. Once customers have paid off their loans they can use their systems as collateral for income-generating activities; payment usually takes from 12 to 18 months.
A project similar to PEG's is operating on the other side of the continent, in East Africa,  where using mobile payments for off-grid solar electrification started.
"Africa is not uniformly poor. In the poorest village you'll still find a middle class who will buy our systems"
The project, Mobisol, is the winner of the Ashden Judges' Special Award. It is now selling high-power solar systems designed for use not just domestically but for running small businesses, to earn some income.
One example the Germany-based company provides is a barber's shop. It might expect, once electrified, to do from 3 to 10 haircuts a day at US$0.30-$1 each, and earning from $1 to $10 daily. Or the system's owner could charge cellphones at $0.10-0.15 a time for 10-50 customers a day, and earn from $1 to $7.50.
In sub-Saharan Africa 70% of households have no electricity – that's 600 million people off-grid. But Mobisol's decentralised solar energy serves 100% of rural areas' energy needs. Its off-grid approach, it says, is leapfrogging ahead of on-grid. Mobisol's ambitions are high.
Thomas Duveau, Mobisol's chief strategy officer, is confident there's a huge market to be served. "Africa is not uniformly poor", he says. "In the poorest village you'll still find a middle class who will buy our systems.
Wealth creation
"Real electrification is about more than simply providing solar lamps. People need to make money. Our decentralised power brings decentralised wealth – wealth where there has been no opportunity to make it."
Mobisol is now working in Kenya, Rwanda and Tanzania, serving 70,000 households and families, and saving 35,000 tonnes of CO2 emissions annually. It plans to expand much further.
The International Energy Agency says sub-Saharan Africa would need an extra $19 billion a year to achieve universal energy access by 2030. Duveau says it could be done sooner, and much more cheaply.
"We have one system which will power 10 to 15 lights", he says, "an iron, a refrigerator, TV, computer, radio and cellphone chargers. It costs about $400. $30 billion would provide enough of those to electrify the whole of Africa in 10 years. It's certainly within range." – Climate News Network