By Brian Kennell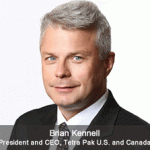 April 22, 2015  – Think 7.3 billion people now sounds like a lot? A United Nations-backed study estimates the world's population could surge to 11 billion or more in 2100—a 57 percent increase in the number of humans living on the planet.
Earth Day gives manufacturers (such as food and beverage producers) a timely opportunity to ponder how their businesses affect the planet's environment and its inhabitants, and how their companies can have a greater impact. A recent column shares how one avenue available to industry professionals is packaging, which can include increasing use of sustainable materials and improving recycling rates of containers.
Surging Sustainability
Growth in demand for sustainable packaging is climbing—figures from packaging consultancy Smithers Pira estimate global sales of such containers will reach approximately $244 billion by 2018. However, that figure comprises only a small percentage of the overall packaging market. There are several lifecycle forces applying pressure to producers; these may ultimately help drive up the percentage of sustainable packaging in the market.
First, consumers are increasingly concerned about environmental issues—they seek out sustainable packaging and other planet-friendly attributes in goods, and the majority (55 percent) is willing to pay more for those products, according to a Nielsen study. Also, government regulation from the local to the national level is motivating packaging producers to step up sustainability in addition to their existing voluntary efforts, such as waste and recycling education. Finally, companies are finding packaging produced with responsibly sourced and reclaimed materials can lead to lowered costs and improved profitability according to supply chain specialists at Beroe Inc.
One approach to enhancing sustainability is packaging reduction; for example, last year spice giant McCormick pledged to reduce its packaging weight by 25 percent by the year 2018. Another method is increasing use of biomaterials, such as the bio-based low-density polyethylene cartons Coca-Cola Brazillaunched for its Del Valle juice brand last year, with the help of Tetra Pak.
Responsible Recycling
The U.S. is woefully behind much of the industrial world in package recycling rates, notes the Natural Resources Defense Council (NRDC). The group also estimates only about 51 percent of recyclable packaging actually gets reclaimed each year. What's more, NRDC places a financial value of $11.4 billion on that wasted material.
In major U.S. cities such as New York, plastic-based packaging is among the least recycled; conversely, paper products are much more likely to be diverted from landfills. Companies can contribute to increased recycling rates of their packaging by opting for packaging made from more readily recycled materials.
Insufficient access also can be an obstacle to increasing recycling rates. Producers like Coca-Cola are attempting to clear such challenges by working to improve the nation's recycling infrastructure, so more packaging material can be reclaimed and reused instead of going to waste. Tetra Pak and other packaging producers are pitching in as well; by co-founding the Carton Council, for example, Tetra Pak has worked with stakeholders along the supply chain to lift the number of U.S. households with access to carton recycling past the 50 million mark—a notable milestone. But there's still room for improvement.
Find out more about what companies can do to support Earth Day year-round.
This article was originally published by Tetra Pak and is reprinted her with the kind permission of the author