This is where green bonds come in. Green bonds are a new type of financing that make it easier for organizations to fund projects that deliver positive environmental and climate benefits.
Green bond proceeds exclusively fund green initiatives and, unlike traditional bonds where investors do not have visibility into how the funds will be used, require transparency so investors can see that the funds are being used to benefit or protect our planet.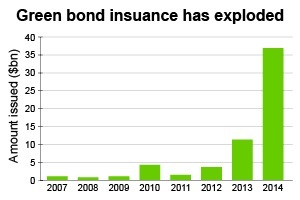 The first green bonds were issued in 2007, but have largely remained a niche offering from a handful of development banks. Over the past two years however, the global green bonds market has started to gain momentum.
According to the Climate Bonds Initiative (CBI), $11 billion (U.S.) in green bonds were issued in 2013 (more than triple the amount of any previous year) and nearly $37 billion were issued in 2014. The CBI predicts that we could see up to $100 billion in green bonds issued in 2015.
Today, development banks are joined by corporations and governments in offering green bonds to finance projects like renewable energy, energy-efficient buildings, sustainable forestry and agriculture, low-emissions transit and other initiatives for positively combating climate change.
In Canada, the green bonds market is in its infancy. Green-energy think tank Sustainable Prosperity reported that labelled green bonds went from zero to $1.2 billion in 2014 in Canada.
The first Canadian green bonds were issued that year by Export Development Canada to fund renewable energy, recycling and public transit projects; the Ontario Government to fund light rail transit; and TD Bank Group, who issued Canada's first private-sector green bond to fund its environmental initiatives. All three issuances were oversubscribed — demonstrating the tremendous demand for these climate-friendly investments.
Recently, TELUS' real estate partnership issued its first green bonds to finance TELUS Garden — our new headquarters in Vancouver, British Columbia. The one-million square foot development includes a 22-storey office tower built to LEED Platinum specifications as well as a LEED Gold 47-storey residential tower with 424 green homes, and will be one of the most technologically innovative and environmentally friendly sites in North America. (See also GLOBE-Net Article "TELUS use of Green Mortgage Bonds a North America first)
This is the first time in North America that green mortgage bonds have been used to support real estate financing and it demonstrates the potential of green bonds for sustainable building projects. Environmentally conscious investors can support the development of more LEED Gold and Platinum buildings, which will play a massive role in reducing our absolute energy consumption and greenhouse gas emissions.
Here and around the world, the demand for green bonds is rapidly growing as institutional investors increasingly seek out investments that fit within a Socially Responsible Investing (SRI) mandate. Moody's Investor Services recently reported that SRI investing now accounts for as much as 35 per cent of professionally managed assets worldwide. While there is a much larger climate-themed bond market, labelled green bonds give socially conscious investors an effortless way to integrate environmental initiatives in to their portfolios.
The green bonds market is growing, but it's still got a long way to go to generate the levels of investment required to tackle climate change. While the growth of green bonds has been impressive, they still represent a small fraction of the $91 trillion worldwide bond market.
Sustainability and renewable energy projects are critical to our future and more funding for environmental initiatives is desperately needed. By working together, socially responsible organizations and socially conscious investors can lead the way in creating a healthier and more sustainable future, for everyone.
---
This article first appeared in Huffington Post and is reprinted here with the kind permission of the author