Traffic Costs Us. Pricing Congestion is the Missing Piece of our Urban Mobility Puzzle.
Ottawa, November 2, 2015 — Canadians are increasingly frustrated by traffic congestion in their major cities and want solutions before the situation gets worse and costs them even more time and money, according to a new report released today by Canada's Ecofiscal Commission.
And it's not only commuters who are suffering. Traffic congestion is damaging the economy and threatening the health of Canadians, says commission chair Chris Ragan, an associate professor of economics at McGill University and former Special Advisor to the Governor of the Bank of Canada.
Traffic congestion costs Canadians. It slows economic productivity, raises the price of consumer goods, damages health, creates pollution, and lowers quality of life.
"Congestion on our roads and freeways leads to wasted time for commuters and delayed goods movement," he says. "This translates into a less efficient economy and makes almost everything Canadians buy more expensive."
Ragan notes that congestion costs regions like Vancouver, Toronto, Montreal, and Calgary billions of dollars every year. Meanwhile, 71% of Canadians in our biggest cities say it is simply too hard to get around and 20% of full-time Canadian workers report experiencing congestion every single day that they commute.
Rapidly growing urban populations hasten the need for urgent solutions. Reducing traffic congestion requires two actions (1) creating more transportation choices and (2) shifting transportation incentives.
"Congestion also means lower quality of life for the thousands of frustrated commuters who respond by making difficult choices about where to live and where to work, further exacerbating the costs of congestion," he adds. "And congestion increases air pollution from vehicles, which contributes to health problems such as asthma, high blood pressure, cardiovascular disease, diabetes, and stress." Those health costs amount to as much as $7 billion per year.
The commission's new report, We Can't Get There from Here: Why Pricing Traffic Congestion is Critical to Beating it, recommends pilot programs in Canada's cities to explore how "congestion pricing," as part of a broader, coordinated package of policies, can help solve traffic problems. The report offers specific project proposals for the country's four biggest metro areas: Greater Toronto, Greater Montreal, Calgary, and Metro Vancouver.
"As Canadian cities continue to grow, with higher levels of urbanization and car ownership, traffic congestion and its associated costs are expected to worsen," says Ragan. "The higher these costs climb, the greater the benefits from reducing congestion."
Attaching a fee to driving, for example in traffic hot spots at peak times, increases urban mobility by encouraging more informed transportation choices, while making all other transportation investments work better. Canada should begin exploring congestion pricing policies now with temporary and transparent urban pilot projects supported by all levels of government.
Expanding transportation capacity— Canada's traditional approach to dealing with traffic congestion — will not solve the problem alone, says Ragan. But a growing body of evidence and policy experience suggests that congestion pricing works, particularly as part of a broader policy package that includes better public transit and road infrastructure.
"Congestion pricing has worked in cities around the world, benefiting local economies and drivers," Ragan says. "It's worth finding out if it can work here."
Case studies in the commission's report illustrate the success of congestion pricing. In Minnesota, for example, the state's High Occupancy Toll (HOT) lanes increased traffic speeds by 6 per cent in the general-purpose lanes while maintaining free-flow speeds in toll lanes. In Oregon's pilot project, drivers subjected to higher per-mile charges during peak times responded by reducing driving at those times by 22 per cent relative to those paying a flat rate.
Ragan says congestion pricing is the crucial missing piece of a broader, coordinated package of policies that Canadian cities need to consider. "More roads and more transit are important, but we will not reduce congestion without the right incentives. That's where congestion pricing comes in."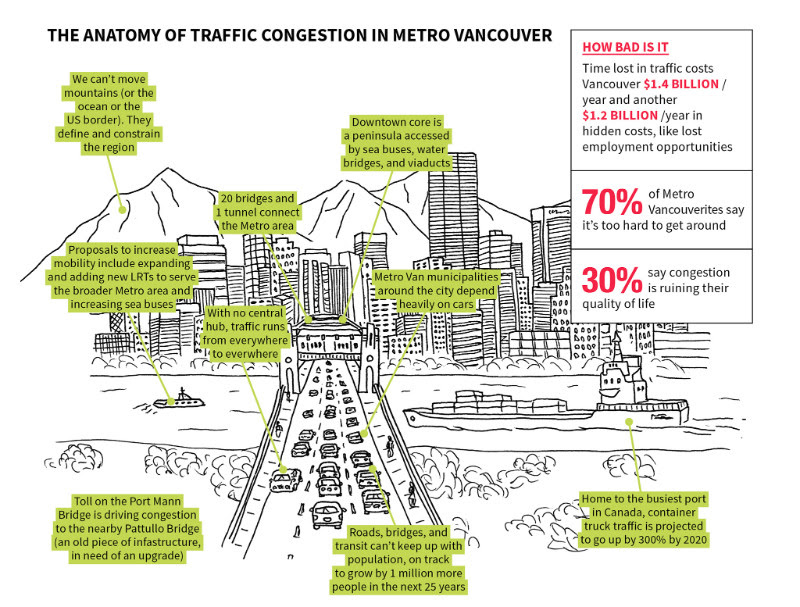 Canadian pilot projects to explore pricing should address the unique geographies, traffic patterns and pressures faced by each city, explains Ragan. Municipalities should have a significant voice in design because they best understand their own congestion context. Provincial governments can play multiple roles in enabling and coordinating congestion pricing trials, and the federal government should help fund and communicate the results of the pilot projects.
"People should have the opportunity to put pricing to the test, experience the results, and decide if it makes sense," says Ragan. "We need to get Canada's cities moving and that won't happen without a serious conversation about congestion pricing."
Many Canadians cities focus efforts on the first approach, but incentives remain the missing piece of the puzzle. This is the gap filled by congestion pricing.
Four Recommendations
1: MAJOR CANADIAN CITIES SHOULD IMPLEMENT CONGESTION PRICING PILOT PROJECTS, CUSTOMIZED TO THEIR LOCAL CONTEXT
Well-designed pilot projects can demonstrate the concrete benefits of congestion pricing while providing important learning opportunities about different approaches. Municipalities are experts in their local contexts and should play a key role in designing congestion pricing trials.
#2: PROVINCIAL GOVERNMENTS SHOULD INITIATE, ENABLE, OR FACILITATE CONGESTION PRICING PILOT PROJECTS
Not all roads are city owned and operated. Furthermore, not all municipalities have the jurisdiction to implement congestion pricing. Provincial involvement may be necessary to get pilot projects up and running. Provinces can also play an important coordination role, especially in urban areas that include multiple municipal governments.
#3: THE FEDERAL GOVERNMENT SHOULD HELP FUND PILOT PROJECTS
Federal funding to establish pilot projects would generate benefits for Canadians well beyond individual cities. The evaluation of these projects would lead to valuable lessons learned about congestion pricing policy design and implementation that could be scaled out to cities across the country. Additionally, the cross-Canada benefit of efficient goods movement would reach Canadians from coast-to-coast.
#4: GOVERNMENTS SHOULD CAREFULLY EVALUATE THE PERFORMANCE OF PILOT PROJECTS, COMMUNICATE THE RESULTS BROADLY, AND INCORPORATE LESSONS LEARNED INTO FUTURE MOBILITY POLICIES
Careful pilot project monitoring, data collection, and knowledge sharing will inform smart congestion pricing policy development across the country. Communicating results in a clear, transparent, and timely way can help build public support for new and innovative approaches to beating traffic.
Ideas for Canada's Biggest Cities
METRO VANCOUVER
Metro Vancouver's traffic congestion challenge is shaped by numerous factors: a constrained geography bounded by mountains and ocean, polycentric travel patterns with multiple hubs of activity, and a complex governance structure. Applying variable pricing (i.e. a fee aligned with peak traffic times) to each of the region's water crossings would target traffic in key driving arteries and reduce regional congestion.
Check out the Metro Vancouver Infographic
CALGARY
Calgary's traffic challenge is characterized by low-density neighbourhoods, long-distance commutes, and more localized congestion problems. In this context, HOT (High Occupancy Toll) lanes—particularly on new roads where carpool lanes (HOV) are planned—could be a practical approach to reducing congestion in key locations while maintaining choice for drivers.
Check out the Calgary Infographic
THE GREATER TORONTO & HAMILTON AREA
Traffic in the GTHA involves drivers travelling between multiple hubs in multiple directions in the context of a relatively unconstrained geography. Converting existing carpool (HOV) lanes into HOT (High Occupancy Toll) lanes or building new HOT-lane capacity on the provincially owned 400-series of highways could be a practical approach for reducing congestion in the broader area.
Check out the GTHA Infographic
GREATER MONTREAL
Greater Montreal's relatively widespread congestion is characterized by extensive commuting to and from the central island. This natural cordon (the downtown island) as well as an existing toll on the Autoroute 25 bridge and potentially new toll on the federally-owned Champlain Bridge, make zone-based pricing a practical option. This would involve applying harmonized pricing on all bridges into the city, reducing congestion into, out of, and around the downtown.
Check out the Greater Montreal Infographic
Download the full report from here