MOUNTAIN VIEW, Calif., Sept. 21, 2015 /PRNewswire/ — Clean and green environment (CGE) technologies have taken center stage with rising water scarcity, energy depletion, and global warming threatening the Earth's ability to nurture life. A concerted move toward sustainability, especially with regard to water-efficient technologies, is vital for future survival.
Recent analysis from Frost & Sullivan, Top Technologies in Clean & Green Environment – 2015 (https://www.frost.com/d64d), finds that the most urgent environmental issue that needs to be addressed is water scarcity.
The study identifies and explores the 10 most impactful CGE technologies of 2015. These include atmospheric water generation, waste-to-energy, waterless technologies, water-energy efficient technologies, solid waste upcycling, indoor air purification, reverse osmosis, air filtration, membrane distillation, and capacitive deionization.
Desalination remains the primary focus of water suppliers. However, prolonged and widespread droughts have compelled them to place deeper emphasis on water production technologies. In response to water scarcity, atmospheric water generation, which does not need readily available water sources, has begun to gain traction even in non-military sectors.
Meanwhile, waste-to-energy and solid waste upcycling continue to dominate the solid waste management sector. Upcycling has emerged a feasible method to manage solid waste and natural resources, water, and energy.
"The environmental industry's higher awareness of the water-energy relationship has intensified its focus on water-energy efficient technologies as well as waterless technologies," noted TechVision Senior Industry Analyst Jennifer Tan.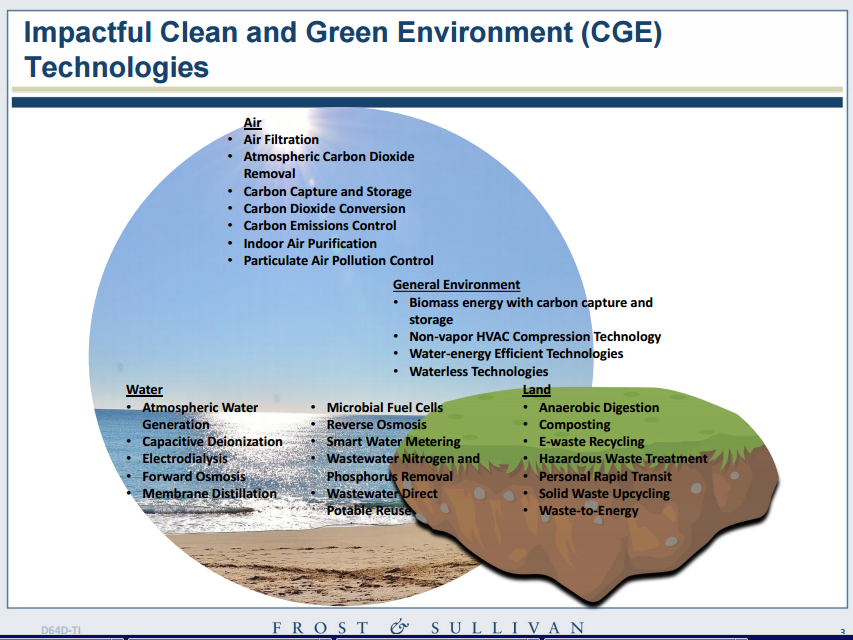 "On the flip side, most technologies are energy-intensive, which often hampers their rapid uptake. The lack of funding, inadequate supporting technologies and the technology shyness of end users also challenge the growth of CGE technologies."
Users may be wary of the unknown long-term effects or net environmental impact of emerging technologies. For instance, lignocellulosic biofuel production has a tendency to leave a larger carbon footprint than conventional fuel production due to the large volume of energy consumed during its processing and transportation.
Innovations in water-energy efficient technologies that address both water and energy shortages globally will solve many of the challenges in the CGE technologies cluster. Due to the longer technological development cycle of the cluster, continuous and progressive innovations will go a long way in collectively accelerating growth in the space.
"Technology developers believe that end-user skepticism regarding the capability and feasibility of CGE technologies can be mitigated to a large extent once they obtain adequate reference points," added TechVision Research Analyst Lekshmy Ravi. "Eventually, the slew of groundbreaking innovations across application areas will fuel higher adoption of CGE technologies among residential and commercial users."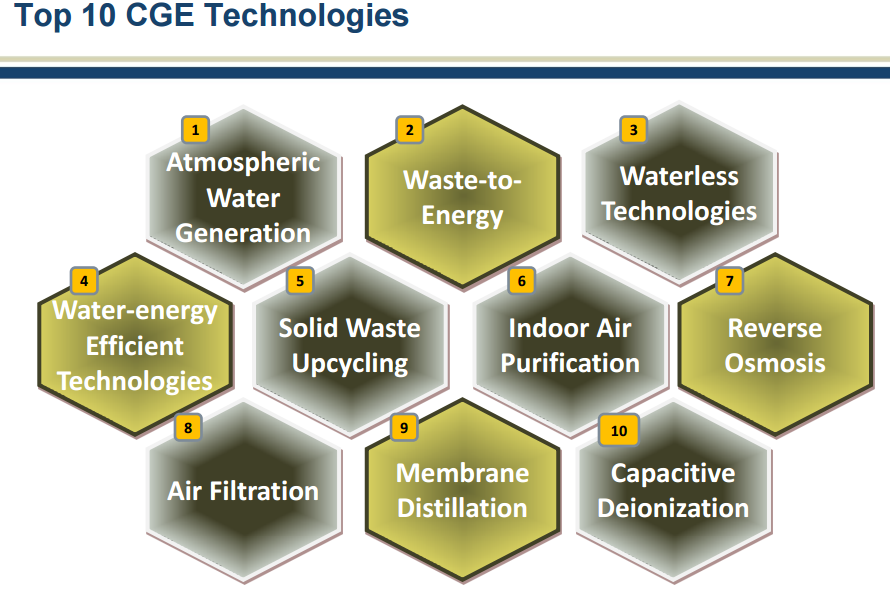 Top Technologies in Clean & Green Environment – 2015 is a part of the TechVision(http://ww2.frost.com/research/technology/clean-green-environment) subscription.
The study has filtered the top 10 sustainability technologies encompassing the atmospheric, land, and water spectrum, as well as identified general environmental solutions to global issues.
The aspects covered are technology overviews, innovators and innovation landscapes, drivers and restraints, intellectual property landscape, funding, market potential, industrial impact, Mega Trends impacts, region-wise adoption, key partnerships, and technology roadmap.
For complimentary access to more information on this research, please visit: http://bit.ly/1Kg7966