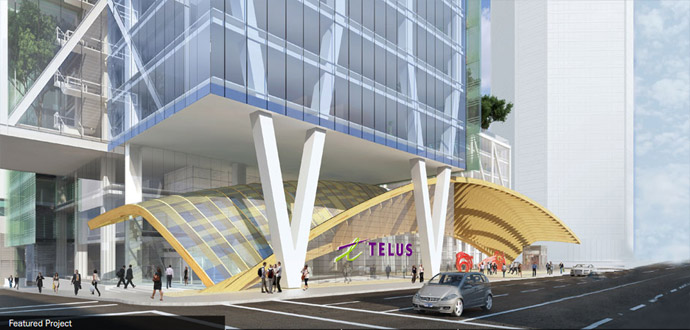 GLOBE-Net, September 21, 2015 – TELUS Garden, the spectacular new headquarters for TELUS Corporation that officially opened last Friday, is more than a bold statement on sustainable development; it is a beacon for building cities of the future.
The one million square foot, 24-floor office tower located on the corner of West Georgia and Seymour in Downtown Vancouver provides nearly 450,000 square feet of much-needed office space for businesses and more than 65,000 square feet of new retail space in the downtown core of the city.
Adjacent to the office tower will be a 428 unit residential tower, all of which have been sold. Approximately 150 units were sold to TELUS team members, who were given the exclusive opportunity to preview and purchase homes in advance of the public.
TELUS Garden transforms an underutilized entire square city block into one of the most technologically innovative and environmentally-friendly sites in North America.
It is the first building of its kind in Canada to be built to the new 2009 LEED Platinum certification standards, and comes with a mind boggling array of energy efficiency and sustainability features that make it a paragon of green design, construction and operation with green technologies including:
10,000 square feet of outdoor garden terraces on six different levels, allowing easy access to the outside;
Team members can cultivate and grow produce; at TELUS House in Toronto, team members sell their organic produce to fellow team members and donate the proceeds to local charities.
A rainwater capture and recycling system for grey water and irrigation
Triple-glazed windows to help maintain a consistent temperature
A sun tracking system that automatically adjusts interior blinds
High efficiency lighting system on occupancy and motion sensors
Perimeter heating provided by recessed wall fan units
Cooling via chilled beams
A raised floor that features a displacement ventilation system, allowing for 100 per cent fresh air supply rather than recycled air, which is the norm in conventional office buildings
Nearly 300 solar panels that will produce approximately 65,000 kiloWatt hours per year, Vancouver's largest solar panel system powering the exterior lighting system fabricated by a local company
Certified wood and steel with recycled content and 60 per cent of locally sourced material, and
Electric car charging stations in the parking garage to support hybrid cars, as well as a secure bike room and shower facilities for our many team members who ride their bikes to and from work.
But it's so much more noted Darren Entwistle, TELUS President and CEO. TELUS Garden is more than the sum of these many innovative parts," he said, "it is a step into the future creating a healthy and sustainable environment that can unlock the potential of our urban spaces and help save our planet.
Quoting Irish Author & Playwright George Bernard Shaw, Entwistle noted "the people who get on in this world are the people who get up and look for the circumstances they want, and if they cannot find them, they make them."
TELUS Garden is an experiment, one not without risks, to create the circumstances that will inspire the next generation of architects and city builders.
Risk taking is part of the price we pay for progress, Entwistle noted, adding that it is far better to ask for forgiveness than to beg for permission.
It is unlikely that forgiveness will be needed for TELUS Garden. By harnessing the best of what current technologies can offer, this addition to the Vancouver skyline will be a source of inspiration on how to improve the quality of living in the urban context.
Inspiring the next generation of city building was a force driving Ian Gillespie, President of Westbank Corporation, the project developer chosen to bring Entwistle's original vision to reality as an integrated whole.
How can we make our cities more sustainable, more culturally diverse and more successful, he asked at the opening presentation? Great Cities matter, he said, and they can be a powerful force in dealing with humanity's greatest problem today – climate change, which is no longer a debate, but a conversation about what must we do about it.
But Great Cities don't just happen. They are the product of countless decisions taken at critical points in time that are guided by vision and leadership.
Joined by Gregory Henriquez, who led the team of 20 architects from Henriquez & Partners Architects that designed the stunning building, the two detailed the many decisions that went into the environmental and architectural attributes at the core of TELUS Garden's sustainable construction and design.
Every feature of the building, noted Henriquez has a story to tell. Energy was a key case in point where cutting edge green features were incorporated into the design.
The most revolutionary of these is the District Energy System operated in partnership with FortisBC where Heat from TELUS's existing data centre, the rooftop solar collection and the new office tower's cooling systems are to be harvested to provide heating and cooling for the office and residential towers, as well as the commercial spaces and amenities. It will also be used to heat domestic hot water for both towers.
By capturing and redistributing low-grade heat throughout the project, heating and cooling energy demands were reduced by 80 per cent compared to conventional systems and over one million kilograms annually of carbon dioxide emissions were avoided.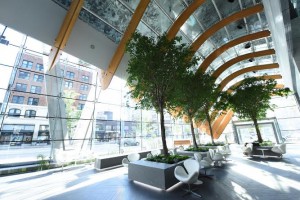 Another striking design feature that fosters the work culture of TELUS is the presence of two cantilevered office spaces that protrude above the city sidewalks that provide unique office, meeting and rooftop spaces for spontaneous group meetings or places of solitude for reflective thought gathering. Bringing the outdoors indoors was one of the key design goals intended to capture the West Coast Gothic sense of place.
Another source of inspiration was the wood and glass covered canopy, inspired by Emily Carr's "Cathedral" painting that spans the office tower's West Georgia entrance way. It features an indoor koi pond and custom-made Fazioli piano.
The one constant throughout noted Gillespie, was leadership and fidelity to the founding vision for the project. Can we afford this, was never an issue.

Realizing the dream was the prime objective, and that in turn sparked another first for TELUS Garden, $225 million in green bonds – the first time in North America green mortgage bonds were used to support real estate financing. The proceeds will be used to retire short-term construction financing for the office tower.

"Embracing sustainability as a way of doing business is at the heart of everything we do at TELUS, and TELUS Garden is the symbol that represents all that we stand for."
The residential tower will meet and exceed the LEED Gold standard. The LEED certification process will take one year and will span 86 points – the most a Canadian building has ever featured.
In addition to the already completed LEED construction elements, TELUS Garden will have to meet some extremely rigorous operational objectives including: Green cleaning supplies, clean air circulation, recycling metrics, and energy monitoring.
It was Andrea Goertz, Chief Communications and Sustainability Officer at TELUS that summed up the ethical dimensions of what TELUS Garden means.
It all comes down to who we are as a company and the values we hold that are the cornerstone of our culture, she noted. "Embracing sustainability as a way of doing business is at the heart of everything we do at TELUS, and TELUS Garden is the symbol that represents all that we stand for."
TELUS Garden – The Facts
Location                              Vancouver, BC
Project Size                        1 million sf
Architect                             Henriquez Partners Architects
Interior Design                 mcfarlane green biggar Architecture + Design Inc.
Henriquez Partners Architects. the Design Agency
Landscape Architect       Phillips Farevaag Smallenberg
Commencement               2012
Public Art                            Martin Boyce
Completion                         2016
Visit                                       telusgarden.com