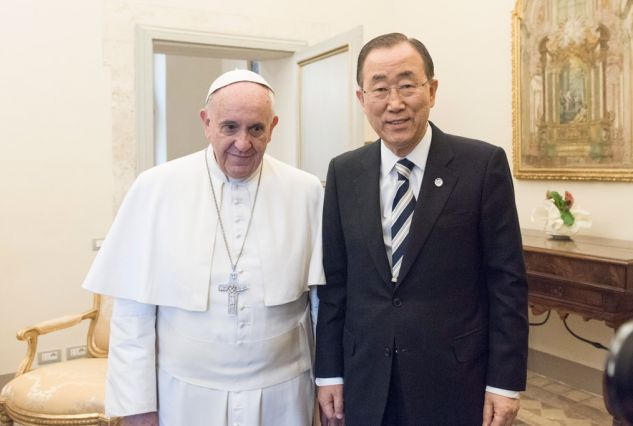 GLOBE-Net, April 28, 2015 "Human-induced climate change is a scientific reality, and its decisive mitigation is a moral and religious imperative for humanity."
So reads the Declaration of Religious Leaders, Political Leaders, Business Leaders, Scientists and Development Practitioners that gathered at the Pontifical Academies of Sciences and Social Sciences at the Vatican in Rome this week to address the challenges of human-induced climate change, extreme poverty, and social marginalization, including human trafficking, in the context of sustainable development.
In what stands as one of the most forthright pronouncements from any of the world's major denominations, the need to act decisively to deal with the impacts of climate change was given the status of a moral imperative within which all the world's religions can and must play a vital role according to the Declaration.
The unprecedented gathering of world leaders in the workshop entitled Protect the Earth, Dignify Humanity" The Moral Dimensions Of Climate Change and Sustainable Development featured Vatican officials plus over 100 high-level invitees, including science, business, diplomatic, and development experts; religious leaders; academicians, scholars and Nobel laureates.
In an Opening address UN Secretary General Ban Ki-moon said "If ever there were an issue that requires unity of purpose" among governments, private businesses, civil society and faith-based groups, "it is climate change."
Following a meeting on the margins of the workshop with His Holiness Pope Francis, the Secretary-General said he very much looked forward to the Pontiff's encyclical on climate change scheduled to be released later this year, which he said would act as a stimulus to give a moral dimension to this issue.
"Pope Francis has been one of the world's most impassioned moral voices on these issues, and I applaud his leadership," Ban added, and called on all leaders to have their voices heard, too, before the upcoming UN meetings in New York and later in Paris where it is hoped that a binding global accord on reducing greenhouse gases will be forged.
Pope Francis, who is scheduled to address the UN General Assembly in New York on September 25, has made it clear in a number of recent statements that he regards man made global warming as an issue that can no longer be ignored. He has linked environmental exploitation to social and economic inequality.
His highly anticipated encyclical on the environment is expected to release in June.
It was drafted by H.Em. Card. Peter Turkson, President, Pontifical Council for Justice and Peace, who led the gathering of world leaders at this week's workshop at the Vatican.
Quoted in an article in the Guardian, Turkson said "In our recklessness, we are traversing some of the planet's most fundamental natural boundaries," adding that "… the lesson from the Garden of Eden still rings true today: pride, hubris, self-centredness are always perilous, indeed destructive. The very technology that has brought great reward is now poised to bring great ruin."
Echoing statements made by numerous scientific bodies and environmental groups, the Declaration released following the workshop states "The world has within its technological grasp, financial means, and know-how the means to mitigate climate change while also ending extreme poverty, through the application of sustainable development solutions including the adoption of low carbon energy systems supported by information and communications technologies…"
It calls for increasing the financing of sustainable development, including climate mitigation, through new incentives for the transition towards low-carbon energy, and through the relentless pursuit of peace, "which also will enable the shift of public financing from military spending to urgent investments for sustainable development…"
Climate-change mitigation will require a rapid world transformation to a world powered by renewable and other low-carbon energy and the sustainable management of ecosystems. States the Declaration.
These transformations should be carried out in the context of globally agreed Sustainable Development Goals, consistent with ending extreme poverty; ensuring universal access for healthcare, quality education, safe water, and sustainable energy; and cooperating to end human trafficking and all forms of modern slavery, reads the Declaration.
The sentiments of the declaration and statements by Pope Francis have sparked a reaction by those who believe climate change is not the direct result of human activity.
As reported in an article by The Telegraph "The Pope has great moral authority but he's not an authority on climate science. He's a learned man but the IPCC has got it wrong," said Jim Lakely of the Heartland Institute, a Chicago-based conservative organization, who had travelled to Rome to try to influence the Pope.
"The Pope would make a grave mistake if he put his moral authority behind scientists saying that climate change is a threat to the world. Many scientists have concluded that human activity is a minor player. The Earth has been warming since the end of the last Ice Age," said Lakely, adding that "I hope our impact on the debate ahead of the Pope's encyclical will be very significant.
"There are 1.2 billion Catholics in the world and they tend to pay attention to what the Pope says," said Lakely.