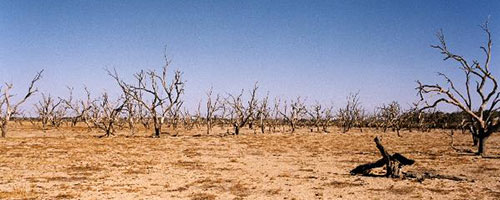 July 14, 2015  – Washington, D.C.—Between 2008 and 2013, some 140 million people were displaced by weather-related disasters; meanwhile, gradual displacements, such as those caused by droughts or sea-level rise, affected the lives of countless others.
These "climate refugees" have become the human face of global warming, their very movement seen as a threat to global security.
State of the World 2015 contributing author Francois Gemenne exposes the dangers of misrepresenting climate-induced migration as a decision of last resort, rather than as a choice in human adaptation (www.worldwatch.org).
"The conception of migrants solely as victims…might actually hinder their capacity to adapt, and induce inadequate policy responses"
"The conception of migrants solely as victims…might actually hinder their capacity to adapt, and induce inadequate policy responses," writes Gemenne, executive director of the Politics of the Earth program at Sciences Po in Paris and a senior research associate with the University of Liège in Belgium.
Today's policies on climate change cast migration as an impending humanitarian catastrophe and as a failure to adapt to changing environments back home.
As a result, policies focus on reducing migration, commonly assuming that overwhelming flows of migrants from poor countries will be flooding industrialized countries.
"Current adaptation policies tend to focus on the right to stay," writes Gemenne.
Today, governments are aiming to reduce the number of people who are forced to migrate, ignoring those who might in fact prefer to leave but are forced to stay against their will or ability.
Planned Migration
"Extending the migration options of populations…would require a broader development agenda."
People who would choose to migrate face many barriers. Migration is expensive, sometimes costing several years' worth of a migrant's income.
Moving also comes with various administrative barriers, such as the possible loss of social benefits and protection.
The lack of information about employment and the competition for land at the destination can limit people's ability to relocate.
Two policy avenues should be considered when addressing climate-induced migration, argues Gemenne. The first is to provide migration opportunities for the most vulnerable populations, including improving access to resources, information, and networks to allow them to relocate.
The second opportunity lies in adapting destinations, such as urban areas in developing countries, to host and integrate communities of migrants.
"The paramount goal of policy responses should be to enable people's right to choose which adaptation strategy is best suited for their needs," writes Gemenne.
"This implies that people should be entitled with both the right to stay and the right to choose."
---
Worldwatch'sState of the World 2015 investigates hidden threats to sustainability, including economic, political, and environmental challenges that are often underreported in the media. State of the World 2015 highlights the need to develop resilience to looming shocks. For more information on the project, visit http://www.worldwatch.org/state-world-2015-confronting-hidden-threats-sustainability-0.