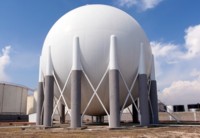 TOKYO, 24 November 2016 — While the rise of the liquefied natural gas market has accelerated the globalization of natural gas, the energy security implications of this transformation have attracted much less attention.
Through an extensive analysis of global gas data, a new report from the International Energy Agency seeks to provide more transparency into the LNG market.
There is no doubt that global gas markets are well supplied today. While this is positive for global gas security, the new analysis from the first Global Gas Security Review, released today in Tokyo, warns that LNG markets are less flexible than is commonly believed.
A growing share of LNG capacity is offline – mostly because of a lack of enough gas to feed into the system but also because of security and technical problems – meaning the market has less extra capacity than assumed. Between 2011 and 2016, the level of unusable export capacity has doubled, disabling about 65 bcm of gas, which is equal to the combined exports of Malaysia and Indonesia, the world's third- and fifth-largest exporters. A period of low oil and gas prices could further worsen the situation.
However, the Global Gas Security Review finds that LNG contract structures are becoming less rigid, increasing market liquidity. In 2015, about 40% of LNG contracts had fixed destination terms, down from 60% for contracts signed up to the year 2014.
While shorter term contracts are gradually becoming more common, buyers are also accepting longer contracts in exchange for increased flexibility in the final destination in order to better respond to market conditions. Flexible contractual structures are important for gas security as they enable to aggregate gas volumes at a lower cost from various regions.
LNG's share of the global gas market is set to increase in the coming years. In fact, LNG supplies have grown at a faster pace than total gas consumption. Providing a factual picture and analyzing its implications for gas security matches well with the IEA's core mandate about energy security.
"The growth in the global gas trade, along with the diversification of supply sources, is improving the security of supply," said Fatih Birol, the executive director of the International Energy Agency. "But there is still a need to be vigilant on gas security as the changing nature of the market means that regional demand and supply shocks may now be felt in more distant places than ever before."
The report provides detailed case studies on Europe and Japan. For Japan, it show that while gas markets reacted relatively effectively to the loss of nuclear generation in Japan after the Fukushima nuclear accident, the factors that made that possible cannot always be counted on in the future.
The Global Gas Security Review builds on an extensive set of data and other substantial inputs from industry and will be produced on an annual basis. It is accompanied by country specific statistics; data on outages of LNG export capacity by type and region; flexible LNG demand by importers; flexible LNG supply by importers, producers and portfolio players; and flexible gas demand and supply in Europe.
Global Gas Security Review 2016 is available for free download here.