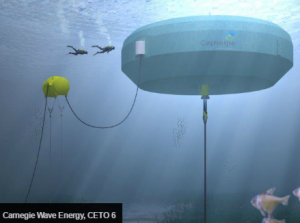 Author: Christopher Niesche
09 Jun 2016 – Australia's Carnegie Wave Energy is attracting global interest after building and operating the world's first commercial-scale wave energy array connected to the power grid and producing desalinated water. Carnegie is currently focused on developing wave energy power solutions for Australia, the UK and remote islands around the world.
Anyone gazing out to sea from Garden Island near Perth would admire the blue-green waters of the Indian Ocean. What they might not realise is that just beneath the surface of the water is a technology that is converting wave power into commercially available electricity.
In 2015 Perth-based Carnegie Wave Energy operated three wave energy generators to build the world's first commercial wave energy array, connected to the power grid. The project – which supplied electricity to the Australian Department of Defence's HMAS Stirling Naval Base – was also the world's first wave energy operation to produce desalinated water."It was really about demonstrating to everybody – regulators, customers, the capital markets – that this wasn't just a nice idea that looked cool on a website," says Mike Ottaviano, CEO of Carnegie Wave Energy. "This is a robust product that can be deployed in a real-world environment and can produce power and water."
The project was built for Carnegie's first customer, the Australian Department of Defence, which was attracted by the consistent power supply that wave energy can deliver.
Operational since November 2014, the Garden Island array hit a milestone of 14,000 hours of continuous and cumulative operation in June 2015, making it the longest uninterrupted period of operation of any in-ocean wave energy project in the world.
Carnegie is now attracting customers from around the world, and is developing the next generation of its technology – the CETO 6 – for projects in Australia and the UK.
A dependable, predictable energy source
Wave electricity generation works by converting the kinetic energy of a wave – both the up and down motion as well as the side to side motion – into power. The surface of the water has the most energy but it is also the most destructive place in the ocean.
So Carnegie has taken a different approach to others trying to harness wave energy and has placed its generators just below the surface, trading off some of the power for safety. It uses hydraulics to drive the generators housed within its units, then transmits the power to shore.
Wave energy has several advantages over other types of renewable energy.
For one, it is constant. Ottaviano says that unlike solar, which generates for about six hours a day, and wind, which typically generates for eight hours, wave energy is available 24 hours a day, all year round.
The power of waves is much more constant and predictable as well. While wind can drop from one minute to the next, wave energy tends to vary over hours and days. For instance, it is possible to very accurately forecast on a Thursday how strong the waves will be on the following Tuesday. This predictability means there is a lot less need for emergency back-up generation to fill the gaps.
Finally, Carnegie's CETO generators are usually deployed several kilometres offshore and sit underwater, so they don't attract the same concerns that wind turbines do from people who live nearby.
Solving real-world problems
All of these advantages are attracting attention from organisations around the world.
Carnegie has set up subsidiaries in the UK and Ireland to access the dedicated wave energy sites in Europe and the UK. Many European markets have tariff support for wave energy and government grants. Carnegie has been awarded a berth at the Wave Hub site in the UK's Cornwall, where a CETO 6 Project is planned.  This project will be supported by a UK government grant as well as a 'feed-in tariff' – a payment made to Carnegie for electricity it generates and puts into the power grid.
The company has also signed a licensing deal to allow its technology to be used by Électricité De France, the world's biggest power company. Ottaviano says EDF wants to move into wave energy and has picked Carnegie as "the best wave technology in the world". The two companies are currently working together to find the best wave energy generation sites off the coast of France.
Carnegie's wave technology is also being used to overcome the challenges that remote islands have producing electricity, including a lack of natural resources such as coal and an inability to generate power from wind and solar.
Wave power offers an attractive alternative to using options such as diesel. "We are currently designing a solar/wave/battery/desalination microgrid for the Mauritian Government that will supply Mauritius and the neighbouring island of Rodrigues," says Ottaviano.
Carnegie has also signed development deals  in Chile, where it has a subsidiary, to develop wave energy projects to provide power and desalinated water to some of their most remote islands.
Isolation breeds innovation
Perth born and raised, Ottaviano studied metallurgical engineering at the Kalgoorlie School of Mines and worked as a metallurgist for a couple of years. He went on to the Technische Universität Hamburg to study a double masters in material science and innovation management, which led to a consulting job at KMPG when he returned home.
After a doctorate in innovation management at Swinburne University of Technology, Ottaviano decided he wanted to apply what he had learned and see a project all the way through rather than consulting on a range of projects.
"I had a feeling there was this momentum building around clean energy and wanted to ideally start a business that could make money out of clean energy but also have a positive social impact at the same time," he says, adding that the company is edging closer to its ultimate goal.
"We've progressively gone through and de-risked this idea of taking this incredibly constant, energy-dense but complex natural energy resource and finding a way to produce reliable and cost-effective electricity from it."
More information:
This article originally appeared in Australia Unlimited and is reprinted here under a Creative Commons license