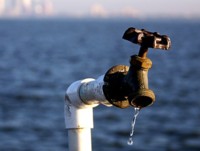 Ottawa, March 12, 2015 –
 A new report from the Council of Canadians reveals that as of January there were 1,838 drinking water advisories in effect across Canada, warning people not to drink their water straight from the tap.
The report, On Notice for a Drinking Water Crisis is the first in many years to document the drinking water advisories (DWA) across Canada. On Notice reveals that there were 1,669 drinking water advisories in counties and municipalities and 169 drinking water advisories in First Nations communities.
Drinking water advisories in the provinces and territories
Out of British Columbia's five regions, 79 per cent of the 544 advisories were in place in the Interior region, with some dating back to the 1990s. The reasons cited include: "source water contamination, inadequate disinfection/ treatment, unacceptable microbiological quality, water quality failing to meet Canadian Drinking Water Standards, and unacceptable turbidity."
---
A recent report called for massive funding to upgrade water and waste water infrastructure in  B.C. (See $13 Billion overhaul needed for BC water and wastewater infrastructure).
---
The 42 DWAs in Alberta were caused by "negative pressure leading to stagnant water, which creates the risk of bacterial growth and pathogen infiltration, groundwater under the direct influence of surface water (GWUDI) and total coliform bacteria." The Calgary zone has the most advisories out of Alberta's five zones with "total coliform bacteria" listed as the cause for most of this zone's advisories.
Saskatchewan has 294 DWAs, the earliest of which dates back to 2002. The reasons for the DWAs include "inadequate disinfection residual in distribution system, failure to meet minimum treatment/design requirements, equipment failure or damage and undetermined source of contamination, total coliforms and E. Coli being detected in drinking water system.
In Manitoba, a total of 155 DWAs were in place in January 2015, including 85 DWAs in public water systems. Details on Ontario's DWAs are not posted but 149 boil water advisories were in place as of January 2015.
---
---
Quebec reports 135 DWAs, some dating as far back as 2001 with "do not consume" advisories for two schools from 2003 and 2004. Nova Scotia had 37 boil water advisories for its public (individual) water supplies. while the two DWAs in New Brunswick were due to malfunction of chlorination system and increased turbidity levels with both advisories lasting just over a month.
The number of DWAs in Newfoundland and Labrador is high for the province's small population. There are 233 DWAs in the province, some dated as far back as 1989. Prince Edward Island does not publicly post its drinking water advisories but there were 77 DWAs across the island in effect in January 2015, most were precautionary boil water advisories because of "total coliform bacteria."
Drinking water advisories in Indigenous communities
As of January 2015, there were 169 DWAs in 126 First Nation communities.2 Ontario has the highest number of DWAs for Indigenous communities (79), followed by British Columbia (35), Saskatchewan (24), Alberta (17), the Altantic (7) and Quebec (2).
Most DWAs in Indigenous communities are boil water advisories. However, there are a handful of communities that are under "do not consume" orders including: Kitigan Zibi (Quebec), God's Lake First Nation (Manitoba), Pinaymootang First Nation (Manitoba), Kahkewistahaw (Saskatchewan) and Shoal Lake First Nation (Saskatchewan). A 2011 access to information request noted that the reason for Kitigan Zibi's "do not consume" order is because of an unacceptable level of uranium.
[stextbox id="custom" float="true" align="right" width="300″ bcolor="d2d0d1″ bgcolor="dbdbdb" image="null"]"In 2012, Canada endorsed the UN resolutions saying that water is a human right. We have to start acting like it if we want to avoid a future water crisis." Maude Barlow chair of the Council of Canadians.[/stextbox]
With threats including tar sands expansion, pipelines, mining, fracking, bottled water plants, climate change and agricultural run-off, the report concludes that without government action, more and more drinking water advisories affecting Indigenous communities will follow, states the report.
"Too many communities are being affected by increasingly long drinking water advisories, yet governments continue to approve resource and development projects that endanger lakes, rivers and groundwater," says Emma Lui, national water campaigner for the Council of Canadians.
Current threats to water quality in Canada
The Council of Canadians report provides a summary of the threats to drinking water sources across Canada. The Council argues that water must be put at the centre of all public policy.
It faults the federal government for recent changes to environmental laws that removed critical safeguards for water protection including: eliminating 3,000 federal environmental assessments through amendments to the Canadian Environmental Assessment Act; removing protections for 99 per cent of lakes and rivers by changing the Navigable Water Protection Act; and gutting the Fisheries Act. 
To curb immediate threats to water, the report calls for the development of a National Water Policy that:
Establishes national enforceable drinking water standards. • Recognizes water as a human right.
Respects Indigenous water rights.
Declares surface and groundwater a public trust.
Creates a national public water infrastructure fund.
Provides a strategy to address water pollution including reinstating changes to environmental legislation, removal of the Schedule 2 loophole that allows mining companies to dump toxic waste in healthy lakes, a ban on fracking and a just transition away from tar sands and all fossil fuels.
Invests in water and wastewater infrastructure, particularly in First Nations communities.
Bans bulk water exports, and
Excludes water from the North American Free Trade Agreement, the Canada-European Union Comprehensive Economic and Trade Agreement and all current and future trade agreements.
To read the report, click here.
Read more GLOBE-Net articles on water.  Add your comments about the state of water quality in Canada.