GLOBE-Net, March 15. 2015 – The Government of Alberta has introduced new steps to reduce tailings ponds and to regulate the use of water from the Athabasca River for oil sands development activities.
A new Tailings Management Framework is focused on getting tailings ponds remediated faster and slowing tailings ponds growth.  The Alberta Energy Regulator's directive 074, which is the current framework for tailings pond management, does not set timelines for the remediation of existing ponds.
A parallel Surface Water Quantity Management Framework establishes stringent water use requirements for both current and future mineable oil sands operators.
Highlights of the tailings management framework
Limiting the amount of tailings that can be accumulated,
Pushing companies to invest in technology to remain within those constraints,
Establishing firm thresholds to identify when companies must take action to prevent harm to the environment,
Requiring companies to post additional financial security to deal with potential remediation issues through the Conservation and Reclamation Regulation, and
Ensuring tailings are progressively treated and reclaimed throughout the project life-cycle and are ready-to-reclaim within 10 years of the end-of-mine-life of that project.
Highlights of the Surface Water Quantity Management Framework
Requiring the majority of water used by existing operators and all water used by new operators to stop during low-flow periods;
Restricting water use during these low-flow periods to a minimum for older operators who are technologically unable to stop all withdrawals;
Establishing weekly triggers, which act as an early warning point before a limit is reached, and setting water withdrawal limits for all mineable oil sands operators, using best-available science; and
Maintaining an adequate quantity of water for Aboriginal river navigation and pursuit of traditional activities.
An Environmental Hot Spot
Covering an estimated 77 square kilometres in various locations in northern Alberta, the oil sands tailings ponds have become the touchstone of criticism of the oil industry's disregard for the environment and a symbol of Canada's alleged preference of energy over the environment.
Tailings pond management has been managed in large part by a now suspended Directive 74 supervised by the Alberta Energy Regulator (AER). First introduced in 2009, Directive 74 proved to be largely ineffective because of the oil industry's inability to meet the targets set by the Directive, and due to a general lack of enforcement.
Last year Shell Canada said it would be "challenged" to meet tailings pond reduction goals that were reset in the spring of 2013 after it missed its original targets. In 2013 the oil sands regulator at that time, the Energy Resources Conservation Board, stepped back from its own rules choosing not to penalize those companies that missed the directive's first set of deadlines.
Directive 74 was suspended last week by the Alberta Energy Regulator (AER). "The AER must conduct a thorough analysis of the new tailings management framework to determine its impacts on how we regulate oil sands tailings," said AER President and CEO Jim Ellis. "The suspension of Directive 074 will ensure that we are not enforcing requirements that are no longer applicable as a result of new direction provided by the framework," said Ellis.
Technology development key element of new strategy
The development of new technology and funding for research will play a large part in reducing the impact of tailings in the future, notes the new Framework document.
"The direction for technology development and implementation highlights the need for collaboration, given that significant effort and expenditure are required to commercialize the most promising tailings treatment methods."
That being said, the new Tailings Management Framework document suggests that new mechanisms need to be established to support the evaluation and validation of the performance of specific technologies and to link new regulatory approvals to the implementation of proven technologies.
That was the criticism Shell Canada president Lorraine Mitchelmore levelled against Directive 74 last year when she said the company was unlikely to meet its current regulated goal for a 50 per cent capture of fine particles in tailings by the end of 2015 at its Jackpine mine and by the end of 2016 at its Muskeg mine.
Quoted in a Calgary Herald article she said ""Directive 74, the intent of it, is bang on. We reclaim as we go and there's a timeline for when you have full reclamation. The challenge we have is this is new technology. We are applying technology to almost meet a yearly plan. And that's a challenge."
Parker Hogan, a spokesman for Kyle Fawcett, Alberta's Minister of Environment and Sustainable Resource Development, quoted in a Globe and Mail article said "…there is [tailings] technology that is being worked on that may produce some very positive results."
"And certainly the discussions we've had with the sector and with their research group [Canada's Oil Sands Innovation Alliance] show that the potential exists over the near term for them to be able to move forward on some of those new technologies, but we have to give them the opportunity to succeed," he added.
Enforcement will be the key to success
"The framework's objective is encouraging — but it will only be effective if matched with clear implementation and enforcement mechanisms," said Erin Flanagan, analyst at the Pembina Institute in response to the Alberta announcement.
"The AER must set firm limits and hold industry to account for existing and future tailings waste," said Flanagan.
In general the Pembina Institute says the Tailings Management Framework represents progress on a high-profile issue long mismanaged in Alberta's oil sands by providing preliminary guidance on the need to reduce legacy tailings on the landscape.
The Institute was less enthusiastic about the new water management framework, which it says leaves the Athabasca River exposed to unacceptable levels of risk.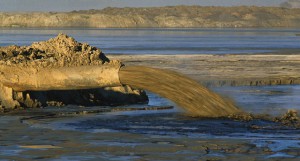 The long-overdue framework is intended to regulate water withdrawals by oil sands operators from the lower Athabasca River and achieves a number of objectives, but provides inadequate protection during the low-flow winter period, the river's most sensitive time of the year, said the Institute in a press release.
David Miller, President and CEO of WWF-Canada said "Setting an EBF, a minimum river flow threshold, is critical to ensuring good river management that protects water for wildlife and ecosystems. Unfortunately, it's missing in the framework released today."
Next steps
Clearly, there is still much to be done to build substance around the Tailings Management Framework and Water Management Framework in terms of regulation and enforcement.
Under the new Tailings Management Framework oil sands companies will be able to accumulate tailings for a discretionary 3-10-year period within range of a project-specific "End of Mine Life Target".  After that they will be expected to maintain a constant tailings volume until the end of the mine's life and within ten years after the mine's closure, will have to reclaim the entirety of the tailings.
This allows companies to generate large volumes of toxic tailings over the lifetime of a mine, and gives a lengthy window of time before limiting tailings production and considerable time to fully clean up tailings after a mine closes. What constitutes a satisfactory 'clean up' still has to be clarified.
So too, enforcement provisions will have to be developed and implemented with more rigor than was the case with the previous Directive 74 regime.
The full Tailings Management Framework for the Mineable Athabasca Oil Sands is available here.
The Surface Water Quantity Management Framework for the Lower Athabasca River is available here.
More details on Alberta's Oil Sands Management Regime are available here.
---
---