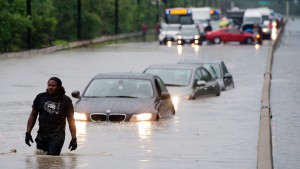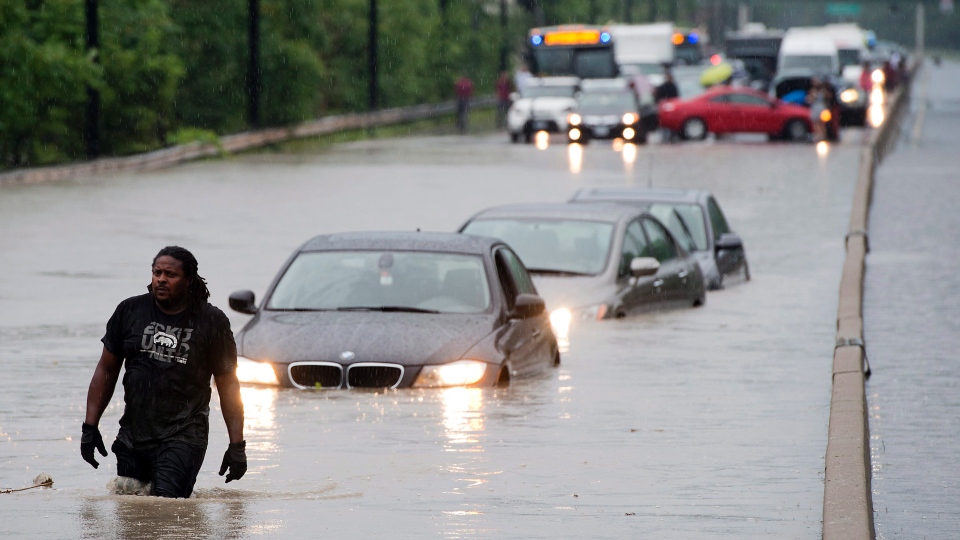 By Paul Brown
LONDON, 15 November, 2016 − As summers get hotter, seas get warmer and extreme wind and rainstorms inflict ever-greater loss of human life and property, the World Meteorological Organisation (WMO) is trying to develop and early warning system for vulnerable countries and regions.
In a report yesterday to governments at the UN's COP22 climate talks in Marrakesh, Morocco, the WMO said that 2016 was almost certain to be the warmest year on record, and detailed the "considerable socio-economic losses in all regions of the world" that has resulted.
The deadliest event so far in 2016 has been Hurricane Matthew, which was Haiti's worst humanitarian disaster since the 2010 earthquake, killing 546 people and injuring 438.
Petteri Taalas, the WMO secretary-general, said: "Another year, another record. The high temperatures we saw in 2015 are set to be beaten in 2016.
Continued global warming
"The extra heat from the powerful El Niño event has disappeared, but the heat from global warming will continue."
"In parts of Arctic Russia, temperatures were 6°C to 7°C above the long-term average. Many other Arctic and sub-Arctic regions in Russia, Alaska and northwest Canada were at least 3°C above average. We are used to measuring temperature records in fractions of a degree, and so this is different.
"Because of climate change, the occurrence and impact of extreme events has risen. 'Once in a generation' heatwaves and flooding are becoming more regular. Sea level rise has increased exposure to storm surges associated with tropical cyclones."
Taalas added: "The WMO is working to improve monitoring of greenhouse gas emissions to help countries reduce them. Better climate predictions over timescales of weeks to decades will help key sectors such as agriculture, water management, health and energy plan for and adapt to the future."
"More impact-based weather forecasts and early warning systems will save lives both now and in the years ahead. There is a great need to strengthen the disaster early warning and climate service capabilities, especially of developing countries. This is a powerful way to adapt to climate change."
It is ironic that just days after the US chose the extreme climate change sceptic Donald Trump − who has described climate change as a Chinese hoax as president-elect. the WMO chose to quote the Bulletin of the American Meteorological Society to show how bad the effects of global warming are.
"There is a great need to strengthen the disaster
early warning and climate service capabilities,
especially of developing countries"
The report said that of 79 studies published more than half found that human-induced climate change contributed to the extreme event in question. The probability of extreme heat caused by global warming increased tenfold or more.
For the first time, the WMO included the consequences of climate change fed in from other UN agencies, including the UN High Commission for Refugees.
This data shows that in 2015 − the latest year for which figures are available − there were 19.2 million people displaced because of weather, water, climate and physical hazard in 113 countries. This was more than twice as many as displaced by conflict and violence.
Of these, weather-related hazards triggered the movement of 14.7 million people. South and East Asia dominated in terms of the highest absolute figures, but no region of the world was unaffected.
The report shows that global temperatures for January to September 2016 were 1.2°C above pre-industrial levels. Temperatures were above the 1961-90 average over the vast majority of land areas. In parts of Arctic Russia, around the Ob River estuary and Novaya Zemlya, they were 6°C to 7°C above average.
Many other Arctic and sub-Arctic regions in Russia, Alaska and northwest Canada were at least 3°C above average. More than 90% of Northern Hemisphere land areas outside the tropics were at least 1°C above average.
There were a number of major heatwaves during 2016. The year started with extreme heat in southern Africa, exacerbated by the ongoing drought. Many stations set all-time records, including 42.7°C at Pretoria and 38.9°C at Johannesburg, South Africa, on 7 January.
Record temperatures
By April, Thailand had seen a national record of 44.6°C, and a new record for India of 51.0°C was recorded in Phalodi, Rajasthan, on 19 May.
Record or near-record temperatures occurred in parts of the Middle East. Mitribah, in Kuwait, recorded 54°C on July 21, which, subject to ratification through standard WMO procedures, will be the highest temperature on record for Asia. The following day, 53.9°C was recorded at Basra, Iraq, and 53°C at Delhoran, Iran.
Temperatures were above normal over most ocean areas. This contributed to significant coral bleaching and disruption of marine ecosystems in some tropical waters, including the Great Barrier Reef off the east coast of Australia, and Pacific island countries such as Fiji and Kiribati. Coral mortality of up to 50% was reported in parts of the Great Barrier Reef.
Remarkably, global sea level rose by 15 millimetres between November 2014 and February 2016 as a result of El Niño. This is a record high, well above the post-1993 trend of 3-3.5 mm per year.
Arctic sea ice is currently well below normal after a near record shrinkage in the summer. Melting of the Greenland ice cap was well above average, with the worst being recorded in July. − Climate News Network