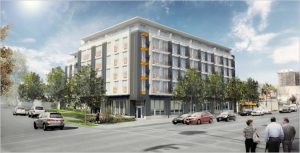 VANCOUVER, November 8, 2016 — Imagine living in a home so energy efficient that your utility bill could be slashed by up to 80%.
That will be the reality for residents of low-carbon, ultra energy efficient buildings, such as The Heights, under construction in Vancouver. The six-storey, 85-unit, market-rental apartment project at 388 Skeena Street aims to be Canada's largest building certified to the internationally recognized Passive House standard.
Vancouver is poised to implement its new Zero Emissions Building Plan, and the B.C. and federal governments have signaled changes are coming to building and energy efficiency regulations and policies as part of each jurisdiction's plans to slash carbon pollution.
These changes will result in ultra energy efficient buildings becoming the norm by 2030, which will reduce the cost of utility bills for British Columbians.
Today, the Pembina Institute launched an in-depth report, Accelerating Market Transformation for High-Performance Building Enclosures.
It tracks the rapid growth of Passive House buildings, assesses their costs and benefits, and sheds light on how public policy can encourage their adoption. The report notes the number of Passive House units in North America has quadrupled in the last year, from 500 to over 2,000 units.
A quarter of the units (600) are in Vancouver alone, making the city a hotbed for the North American expansion of these green buildings that dramatically reduce carbon pollution and energy use, enhance comfort and durability, and boost the clean economy.
"In less than 10 years, near-zero emission homes and buildings will be commonplace in Vancouver and elsewhere. Recent government initiatives — including Vancouver's Zero Emissions Building Plan and B.C.'s climate plan — call for new buildings to achieve near-zero emissions by 2030," said Karen Tam Wu, director of the buildings and urban solutions program, Pembina Institute.
"We expect the federal framework for clean growth and climate change to complement this objective. These forward-looking policies will protect our communities, support job creation, and strengthen our low-carbon economy."
The report was made possible by a Carbon Neutral Cities Alliance Innovation Fund grant from the Urban Sustainability Directors Network, a Greenest City grant from the Vancouver Foundation, and the support of the Real Estate Foundation of B.C.
Its launch coincided with a media tour of The Heights, hosted by the Pembina Institute with representatives of Eighth Avenue Development Group, Peak Construction Group of Companies, Cornerstone Architecture, the City of Vancouver, and Passive House Canada.
Today's event served as a prelude to open houses scheduled across Canada for International Passive House Days (November 10 to 13). The public is invited to visit The Heights on Saturday (November 12) between 10 a.m. and 3 p.m.
Ultra energy efficient buildings will also be the focus of the Pembina Institute's upcoming thought leader forum in Vancouver. Pathways to Net-Zero Buildings takes place November 28 and 29.
Quick facts
Buildings are responsible for nearly one-quarter of Canada's carbon pollution, and a third of U.S. emissions.
By the end of 2016, North America will have nearly 2 million square feet of certified Passive House buildings, three times more than in 2015.
The City of Vancouver's Zero Emissions Building Plan calls for a 90% reduction in emissions from new buildings by 2025, and zero emissions for all new buildings by 2030.
The Heights will use about 80% less energy than a conventional building.